Couples activities can sometimes subtly become boring routines when done over repeatedly, reasons why exploring some new things to try with your partner becomes essential.
There are new and exciting hobbies for couples that you can try with your partner aside from going to parties and clubbing every weekend which can become less fun or mentally draining if done too often. There are also indoor hobbies for couples who prefer to stay low-key and spend quality time with each other in a calm and relaxing ambience.
Making pastries in the kitchen with your spouse, and molding your dough into various shapes to bake, are indoor hobbies for couples worth trying. It is creative and fun, and you can enjoy this moment more by having your snacks with beverages or homemade fruit drink.
There are several exciting hobbies for couples that you and your partner can try anywhere; indoors, in public, with friends and families, or at new destinations while on vacation.
Why Are Couple Activities Important?
Couple activities are important in uniting couples, helping them resolve their differences and sustaining their relationship. Also, couple activities bring couples closer to each other, helps them stay together in harmony, and maintain a positive vibe.
What Are Some Good Hobbies For Couples To Do Together?
Good hobbies that couples can enjoy together include; photography, house painting, dancing, and even pet walking. These couple hobbies allow couples to go on adventures together, try new dating experiences, and capture beautiful moments together while drawing closer to each other.
30 Fun Hobbies For Couples To Enjoy Together
Exploring these hobbies for couples can help married partners escape stress after a busy day or week. Couples should engage in exciting hobbies together after a tedious or stressful event instead of staying together doing nothing but transferring aggression at each other.
We've segmented these hobbies for couples into 3 categories: fun hobbies, creative hobbies, and romantic hobbies, all of which couples can actively engage in and explore to maintain love and unity in their relationship.
Fun Hobbies For Couples
Married couples are first friends before marriage partners. You are a team; therefore, you must engage in fun hobbies for couples, enjoy each other's company, and rebuild the spark in your marriage. Here are some fun and exciting hobbies every couple must try;
1. Play Card/ Board Games
This is one of the indoor hobbies for couples that do not require spending money or much activity. Get a card game or scrabble board and challenge each other. When there is an equal mark, you can start over and continue playing until there is a winner. This is one of the coolest fun hobbies every couple must try.
2. Cook Together
Couples can choose a day or two in a week to cook together. It can be specifically to prepare new dishes from cooking videos on YouTube and Instagram. When you and your spouse make cooking a hobby, you become open to trying new dishes. This can broaden your idea on local and international ingredients and cuisines.
3. Go Clubbing
One popular way to unwind after a busy week is to go clubbing. It is one of the exciting hobbies for couples who love to go out to clubs, party, and have crazy fun. Put on your crazy, cute outfits, hit the club and steal the show! This is really fun for many couples, but if you find this too exhausting, you can skip this.
Clubbing for couples is all about unwinding, feeling good vibes, and connecting emotionally like new lovers.
4. Go Swimming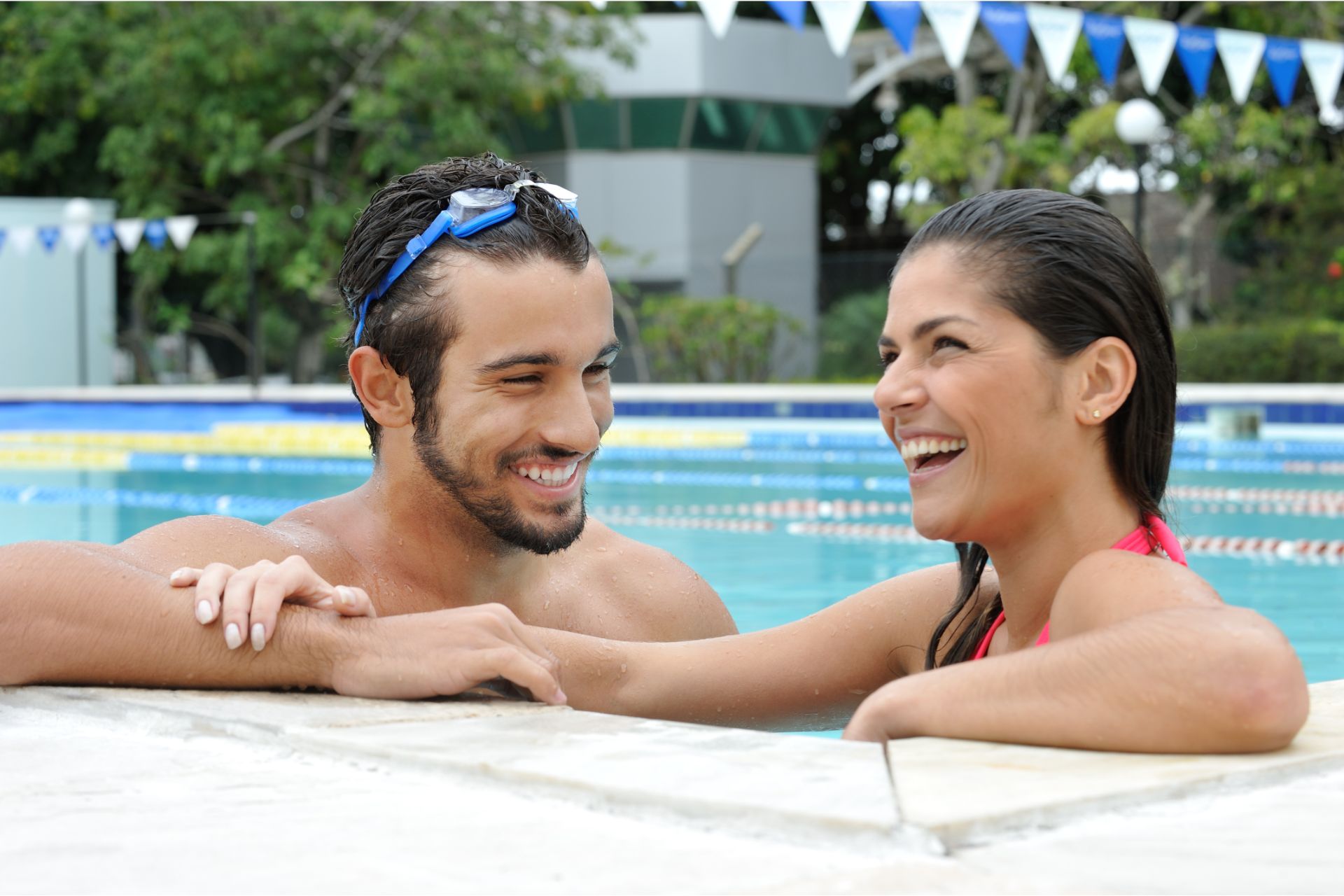 Most people have swimming pools in their houses where they can swim and feel cool when the sun is scorching or just to enjoy the sky view in the evening with some cocktail drink.
Couples can unwind and do some swimming exercises in the pool. It is a simple and great hobby that you can regularly engage in with your partner; dance in the pool, play chess, and be romantic with each other.
5. Start Learning A New Language Together
You can introduce language learning to your partner to spice things up in your relationship. It is among the fun hobbies for couples that you can engage in with your partner anywhere, as long as you have your phones or laptops connected to the internet.
Duolingo is a fantastic app for couples to learn as many languages as possible. This can be a great experience for couples who love to travel, and they can practice those languages with people they meet in other countries. Through language learning, couples can also discover pet names in different languages to call each other.
6. Go Fishing
Feel the cool breeze and enjoy the view of Mother nature while your nerves relax. They are hobbies for married couples that can help you and your partner bond more and connect stronger emotionally. It gives you and your partner private time to discuss issues, share ideas together and reminisce on your happy moments.
7. Attend Shows Together
Attending shows together with matching outfits, fingers locked together, and laughing together merrily is part of the fun hobbies for couples that can help make couples feel special together and rekindle their love.
8. Play Handball At The Beach
This is among the fun outdoor hobbies for couples that you can play at the beach with friends. A minimum of 4 to 6 players can play this game.
You only need a handball and a few friends or family members to join the game. This creates opportunity for couples to have so much fun together and maintain a positive and loving vibe around other people.
9. Go Out For Workouts And Exercise
Fun hobbies for couples include; going for gym training together or doing workouts at home to stay fit. You can engage in home workouts by following workout videos on YouTube, or you both can go jogging together outside to chill out.
10. Try Your Hands On Musical Instruments
This is also creative and can be done in your leisure time. Couples can try playing musical instruments like piano, guitar, or saxophone. You can spice things up a bit with singing and dancing. One person sings and dances while the other plays the instrument.
Creative Hobbies For Couples
There are so many interesting and creative couples hobbies that you can do with your partner indoors or outdoors and enjoy quality time together. These creative hobbies require items like camera, bikes, passports to travel, and camping items.
11. Go Camping
Talking about creative hobbies for couples, camping is one of them, and couples can do this activity as a getaway from stressors. Many young people have shown fear of marriage because they are afraid that they will no longer have time to themselves or have as much fun as they want – which is a wrong notion.
Married couples can always create time to engage in fun activities together, and camping is one of the many creative hobbies for married couples. Take yourselves out in the cool weather and camp around a fire, or sleep in your travel van at nightfall.
12. Tour States Together
Travel interstate and globally with your spouse. Put on your boots and hit the road. Forget about the issues in your relationship and back home; visit new places together, enjoy each other's company, and feel a unique sense of satisfaction and oneness with each other.
Check out these bonding activities for married couples that will increase the spark in your marriage.
13. Photography
Right from the window of your living area, in your backyard garden, at the beach, and everywhere, you both can take beautiful pictures of nature, objects, yourselves, and random people. Capture every cool and exciting moment, and create a photo book for those pictures.
You can also hang some of the pictures on the walls of your bedroom to relive those moments together at other times.
14. DIYs
You can try your hands on tie-and-die; mix colours and recreate colorful shirts and gowns from your old wears. Scented candles is another DIY craft you can do with your partner to feel closer and in sync with each other. There are different perfumes for candles that are sold at supermarkets. Check out any nice smell you both like, and use it to make your scented candles.
15. House Painting
These are also hobbies for couples to do together. Have some cool soul music playing while you paint. You can also take videos together while painting. Make this more fun by setting a time frame at which each partner is expected to have finished painting and see who finishes first.
16. Create A YouTube Channel
Creating vlogging profiles or channels on social media platforms like Facebook, Instagram, Tiktok and YouTube are exciting hobbies for couples you can try with your partner.
Create fun videos, romantic couple videos, and play pranks. This creates a beautiful bonding experience for couples and is one of the ideal hobbies for couples at home.
17. Bike Riding
Active and good hobbies for couples include bike riding! Feel the cool air blowing through your hair, face, and armpits while bike riding in the neighborhood or on the road.
Research proves that our immune system is strengthened when we laugh, and it decreases stress hormones. So, go bike riding with your partner and have a lot of fun together.
18. Do Music Covers
This can be a great indoor activity for couples who prefer to stay low-key and spend quality time together having fun. Do music covers of songs you love, sing together, and take different verses. This is creative and helps couples learn how to put together their vocals to create magic.
19. Walk Your Pet
On days when you just want to take short walks and feel the cool air outside in the morning or evenings, take your pet out with you and take a family stroll together.
20. Go Rock Climbing
Check out places in your neighborhood where you can go rock climbing. Climb rocks with your spouse and exercise your lower body. Hold hands to support each other while you climb the rocks. Rest within short intervals to drink water and have brief talks. It helps you to bond and become supportive of each other.
Romantic Hobbies For Couples
It is good for couples to make out time for themselves away from work, mind-draining projects, and the children. There are hobbies for couples to rebuild the spark in their relationship and make them draw closer to each other emotionally. These romantic hobbies for couples are;
21. Have Weekend Dates
Rebuild that passion in your love life with your partner by going on weekend dates together. You can visit a museum, go swimming, hiking, shopping, or have champagne together at the bar. You can discover more romantic activities for couples on weekends that you have not heard of!
22. Have A Massage Session Day
Book massage sessions for each other, and let your bodies get massaged by professionals. This is one of the romantic hobbies for couples that helps you both enjoy maximum relaxation and relief from stress. It allows couples to experience body relief and comfort.
23. Go Shopping Together
This can be done as a surprise shopping where one partner surprises the other by taking him shopping and have the bills taken care of. You can also choose a day that you both go out together, tour clothing shops together and shop for beautiful outfits that you admire on each other.
24. Go On Spa Trips
Going for Spa treatments helps you experience comfortable sleep and body relaxation with your partner.
25. Bird Watching
Couples can watch birds perk on the ground or trees for feed. You can throw the birds food crumbs and watch them carefully make steady hops for the crumbs.
26. Night Sky View
You can sit out in the evening with your partner, watching the sky and sipping wine. Unburden yourself and talk about your stressful day at work. Let the evening wind help you both unwind and relax.
27. Read Books Together
You can create a little library in your home where you and your spouse can read novels, relationship books, or self-growth books together. These are interesting hobbies for couples to do together.
By the way, if you need helpful tips on the best relationship books for couples, check out these 10 relationship books every couple must read together.
28. Play Dress-Up
Playing dress-up and making couple videos are also cute hobbies for married couples. You can put on different matching outfits just to take cute videos and pictures together. And you can upload them as content on your vlogging channels.
29. Have Your Special Movie Nights
30. Go Out And Play At The Fun Park
Quick Summary: Hobbies For Couples
The above list of couples hobbies are the best hobbies that couples can try indoors and outdoors to connect with each other and build a strong, lasting relationship together.
I'd be reading your favourite hobbies for couples in the comment section.
Pin this for later!