For couples who believe that love is a natural thing and that sustaining it will come naturally, they always realize almost too late that love is a choice, and at the same time, it's a commitment you make especially with someone you have said "I do" to.
The earlier you realize that for your marriage to last, there are marriage intimacy exercises you have to constantly engage in to keep the fire of love burning, the better for you, and the happier you will be.
Most couples who think that their love is self-sustaining often end up burnt out and frustrated, and almost at the edge of divorce. This is something that I have encountered so many times with so many couples, and it always turns out that they left their marriage to chance.
In this post, I have written about intimacy building exercises for couples that will help intentional couples bond and keep the fire of their love burning for a long time.
What Is Intimacy In Marriage?
Intimacy in marriage is when couples share a bond that leaves them vulnerable to the other; brings them emotionally close to each other, and consequently makes them care for each other. It also comes with a feeling of deep love and affection for each other.
How Important Is Intimacy In Marriage
Intimacy in marriage is very important because it is the foundation for a long-lasting marriage. While it is easy to get married, it is not easy to sustain a marriage in the long term. A long-term marriage requires the commitment of both partners and is often a testament to how hard both mates have decided to work on their marriage.
Intimacy is often a determinant of how long a marriage lasts. Marriages that do not showcase intimacy are almost on the brink of divorce or separation because little things are more than enough to send both couples apart.
The importance of intimacy in marriage cannot be overemphasized because it is the oil that keeps the marriage going, it is the oil that keeps a fire burning, and it is the rain that quenches the fire that can ruin everything.
10 Marriage Intimacy Exercises For Couples To Connect Deeply
These marriage intimacy exercises will help you connect with your mate in a way that will make your marriage stronger, more healthy, and more beautiful.
1. Make Out An Appreciation Time
While it is good that we set standards for our partners because these are the things that we expect from them and want them to do. It is also right that we understand that not everybody does what they can do and this is the reason why you have to take out time to appreciate your partner. This is one of the easiest marriage intimacy exercises.
Even for the most basic things like taking out the trash, cleaning the house, or removing something from where it is not supposed to be; appreciating your partner sends a message that you see them. They are not just a piece of furniture in the house or a piece of equipment in the garage. Appreciating your partner shows that you truly see what they do and you are paying attention to their every action.
When you appreciate your partner, you make them want to do more, and when they do more, it makes you happy and it continues like that.
Appreciation creates a ripple effect because your partner will want to go out of their way to hear your words of praise. Why should you keep on praising them? It's always a win-win situation, so why not just appreciate your partner and let them know how you feel about what they are doing all right?
Need other unique ways to show appreciation to your partner with words? I have written a heartwarming list of appreciation letters that will make her cry.
2. Talk About Your Day 30 Minutes Before Bedtime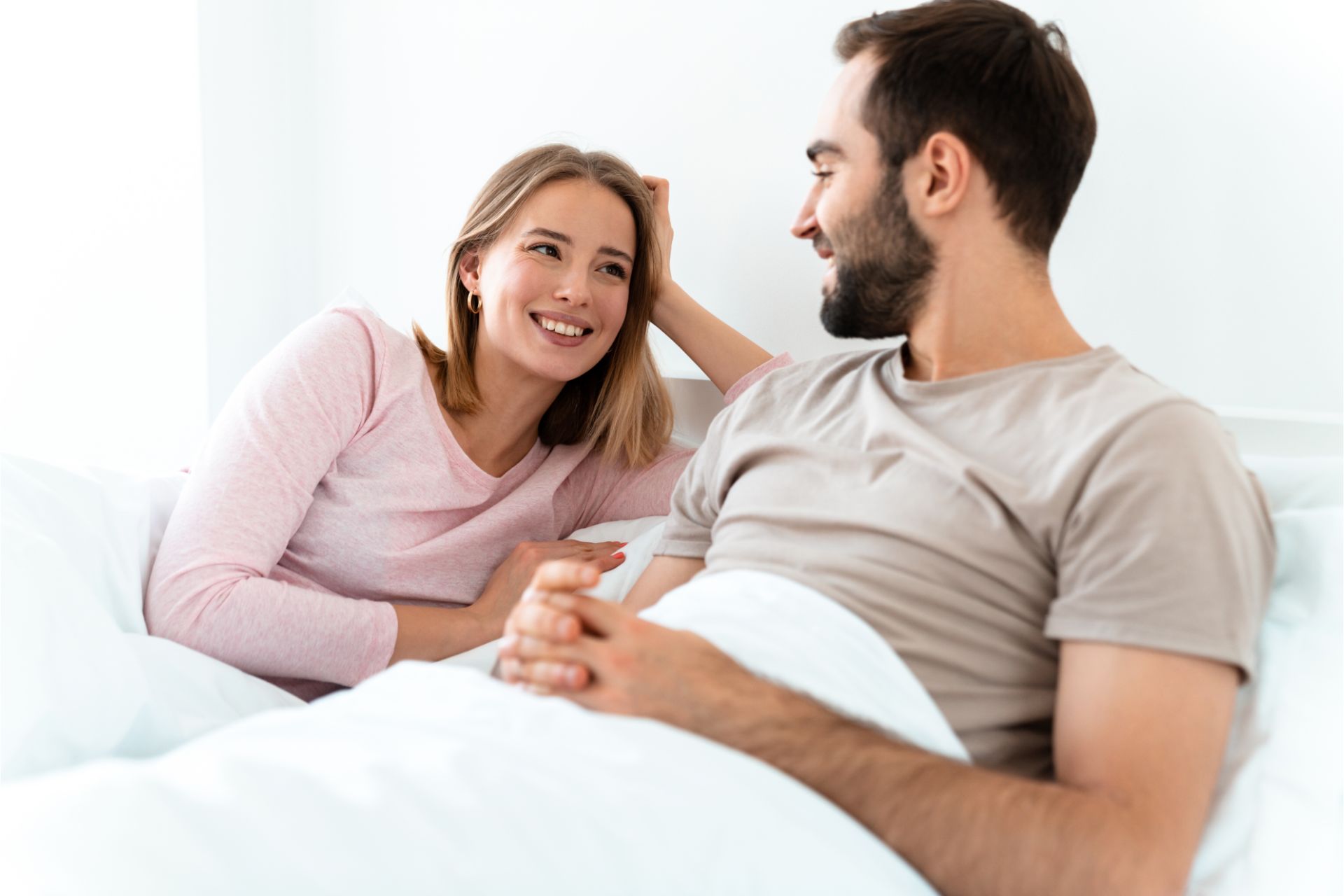 A client of mine and her spouse had some intimacy problems. Apparently, both of them had great careers which translated to being busy but their marriage was suffering for it. What did I advise them to do? I asked them to create a time to talk before bedtime. I specifically gave them 30 minutes to talk before bedtime and on our next appointment, they both confessed that there were things they did not know about each other.
After three months, when they came back again, love was radiating from all over their faces because they had gotten their intimacy back. The couple went ahead to create a bedtime routine with the instructions I gave and it has helped maintain that flow of intimacy.
Talking with your partner 30 minutes before bedtime is one of the intimacy activities for couples I always recommend. The purpose of this is to ensure that you are in the loop about everything that is going on in your partner's life. This is better than watching TV or surfing the Internet.
Talking with your partner helps you relax, helps you connect with your partner emotionally, and helps you have every other form of discussion that you might want to have with your partner. This is one of the marriage intimacy exercises for couples that will increase intimacy between you and your partner.
3. Resolve Your Issues Before Going To Bed
I am going to borrow a line from the Bible which says "Do not let the sun go down on your anger". This does not apply to everybody because not everyone is a Christian but it applies to couples in marriages because when couples allow anger and conflicts to last too long in their marriage, it can affect intimacy.
As a marriage counsellor, I have seen several cases of conflict that lasted from 2 days to years, and both couples ended up going their separate ways because of a conflict that was allowed to last longer than necessary.
One of the most important things in marriage is to learn how to forgive, and forgiveness does not just happen in an instant, there are ways to make sure that forgiveness comes into the picture and that is by performing one of these marriage intimacy exercises before going to bed.
Your partner might have made you angry during the day or while you were at home with him or her. Resolving these issues before you go to bed will help you to sleep better, to wake up with a clear mind, and deepen your love because you know you are heard.
Resolving issues at first might be hard because it's not every issue that you might be able to resolve immediately, it's OK to shelf them but make sure that before the week runs out, you resolve that particular issue. If it is something that you can resolve the same night, do not procrastinate, resolve it right there; that way you can learn how to forgive and how to move on from issues very fast which is pivotal to the success and intimacy of your marriage.
4. Go On A Date At Least Once A Week
If you have a great career, it is not an excuse for your marriage to fail. If you can go on lunch dates with your boss, friends or colleagues. Going on a date at least once a week with your partner is not too much.
In fact, it is recommended to go on a date as much as possible with your partner because getting out of the house gives you a different feel to your marriage; you enjoy new experiences, you see new places, new faces, new people, and new atmospheres, and these things contribute to spicing up your marriage. Also, going on a date makes you feel like you are back in your dating days.
Going on dates is one of the best connection exercises for couples that I have incorporated into my marriage. No matter how busy we are, we create time for a date which can be a dinner, lunch or brunch, or morning date. We just ensure that we get out of the house and spend some time with each other.
It doesn't have to be expensive or glamorous, it can just be something as simple as going to the picnic or going to the amusement park and having fun with your partner while doing something beautiful. This is a way to build intimacy and bond.
Need date ideas? I have written a powerful list of date ideas guaranteed to give you the most fun.
5. Ask Intimate Questions
Engaging in discussions with your partner before bed can often lead to deeper and more intimate questions. By consistently conversing before sleep, you create a comfortable space where you can delve into the mind and thought process of your partner.
I would like to present the importance of asking intimate questions, not just random questions like How was your day or What did you do today?
Asking intimate questions helps you know more about your partner; get into the mind of your partner, and get into the thought process of your partner. When you ask intimate questions, it shows your partner that you care about them and are interested in getting to know them on a deeper level. It creates an environment where they feel comfortable opening up to you without fear of judgement.
By the way, If you're clueless about intimate questions to ask your partner, check out these 101 insanely intimate questions to ask your spouse.
6. Engage In Extra-Long Cuddles
Engaging in extra-long cuddles is not to the end that you end up having s#x, it's just to the end that apart from talking, you share a physical connection through body contact. It is one of the most important physical intimacy exercises for couples that I love.
As a marriage therapist, I have had the opportunity of meeting many psychologists and psychotherapists who have stated the various importance of body contact apart from s#x between couples. When you engage in extra-long cuddles, it helps to release some oxytocin, also called love hormones.
These are hormones that might not be released on a normal day, but when you engage in extra-long cuddles with your mate, it releases the love hormones which helps intimacy. It's also a practice that helps you de-stress and relax and has been proven to be one of the ways to increase intimacy.
7. Talk Long Walks Or Long Hugs
Need one of the best intimacy exercises for couples? Long walks or long hugs, whatever you want; the prerogative is yours, but they are the antidote to lack of intimacy in a marriage.
Long walks help you enjoy the company of your partner and are a time for you to have great conversations with your spouse; enjoy the silence and share the beautiful laughter.
This is one of the marriage intimacy exercises that is pretty important. It can be done at any time of the day, just ensure you are there with every part of you enjoying this beautiful scenery, enjoying the feel of your partner's arms, and enjoying your partner's presence.
8. Engage In Breathing Exercises Together
Breathing exercises help couples connect on a deeper level, and this is one of my favourite marriage intimacy exercises for couples because it's a meditative form of couple exercises that increases intimacy.
Breathing exercises can range from two seconds to one minute. The most important thing is that you are doing it with your partner and your mind, your soul and your body are right there with you.
When you do this it's a process that involves inhaling and exhaling with your partner, and it just helps you share that connection of relaxing with your partner which is very important for intimacy in marriage.
9. Get Each Other Gifts
This is one of the couples intimacy exercises that cannot be underrated and cannot be overrated, it is a perfect way to build intimacy with your partner. Getting each other gifts is not to fulfill all righteousness but to honor your partner, show love and make your partner feel special.
These various marriage intimacy exercises are one way or the other, the expressions of the five forms of love languages. When you get your partner gifts, the balance is knowing what exactly your partner likes and truly desires. It does not necessarily have to be restricted to wearable or usable items but can also include something edible.
Getting your partner gifts is important because it's a chance for you to show how thoughtful you are.
10. Take Up One Of Your Partner's Responsibilities
Marriage is all about sacrifice, and if you do not sacrifice, how do you want to show your partner that you love him or her?
Taking up one of your partner's responsibilities may not be permanent, it might be temporary but it should be consistent enough to make them relax and make them know that even if they are not around, it is something that they can leave in your care and you will do it properly.
It is also important that when you take up these responsibilities, you do not take up a responsibility that can burn you out. Take something that you can be able to do for a long time, so you don't end up disappointing your partner.
Taking up one of your partner's responsibilities is showing your partner that you want them to have a good life, and is one of the most thoughtful activities that promote intimacy in marriage.
Marriage Intimacy Exercises For Long Distance Couples
For long distance couples, it's often a war to sustain intimacy because they're not around each other but these marriage intimacy exercises that I have written are what I have used to help long-distance couples sustain intimacy and even increase it over time.
1. Keep Sharing With Each Other
For couples who have said "I do" but for one reason or the other are apart, there is nothing wrong with oversharing.
When you have been married for a while, you must share with your partner, let your partner know about your day, let your partner know about what you did, and just keep the conversation going.
Keep sharing with your partner, keep letting them know what is going on, down to the weirdest things, share with your partner because it helps your partner feel close to you, it makes them feel as though they are physically there with you, it is one of the best exercises to improve intimacy in marriage.
2. Send Photos
Don't wait for your partner to say, bless me with some good photos before you send your photos. Let it be random. It should be as often as every day if you go out, in the shower, or whatever you do; take a picture and send it to your partner.
It makes them feel like they are there with you and that is the aim for long distance couples, making your partner feel like he or she is right there.
3. Video Chat Daily
Video chatting is non-negotiable because it is the most basic way for partners to communicate with each other as much as possible.
Video chat with your partner even if it's once a day with a minimum of 30 minutes in a day. It is okay if you can last as long as you want on the video call but you should have a minimum amount of time that you video chat with your partner daily. No matter how busy you are with your job, make time for video chat.
Furthermore, you can also video chat and enjoy watching your partner pleasure themselves. There is nothing wrong with this, it is one of the s#xual intimacy exercises for couples who are distant apart.
4. Make Your Partner Your Number-One Person
Making your partner your number one person is a very smart move that I advise most couples to adopt. Because your partner is not around, it is easy for you to find solace with other people, especially the opposite gender. These are funny situations in which cheating comes in and you find yourself doing things that you normally wouldn't do just because your partner is not around.
So when you make your partner your number one person, your partner is the first person that knows everything about you, the first person that knows when you are missing your right shoe, the first person that knows when you burnt your hands while cooking, the first person that knows your wins, your challenges, and your fears. This will help your intimacy grow as it is one of the best marriage intimacy exercises for long distance couples.
5. Put In The Effort
You have to be willing to put in the effort because physical marriages battle with intimacy. How much more long-distance marriages? Long-distance marriage often puts a strain on the intimacy of couples and at the same time is a test of how deep your love runs.
For long distance couples, you have to put in double the effort of couples who are even physically close to each other. So you cannot approach your long-distance marriage the same way a person who is in proximity with their partner approaches theirs.
You have to put in a lot more effort, you have to be extra intentional and very committed; else, all your efforts might go to waste.
You have to decide it's a decision that you have to make, it is not a feeling; feelings are fickle but decisions stand the test of time. You have to make that decision that when you feel like it or not, you are going to put in the effort and this goes both ways for both partners.
6. Be Willing To Learn, Stretch And Adjust
Maintaining intimacy in a long-distance marriage might seem easy to do at first until you find out that you are missing your partner. So 3 months into the whole long-distance thing, it is time to learn new ways of connecting with your partner emotionally.
To decide that you will not allow anything to come in between you and your partner, it is time to adjust to the fact that you have to come up with new ways of maintaining intimacy with your partner.
You have to learn how to take yourself out of situations that would make you doubt your partner's love; so it's like a whole new form of marriage where you have to learn, adjust and stretch to become a better lover. This is a very important part of emotional intimacy exercises for couples who are distant from each other.
Final Note On Marriage Intimacy Exercises
These intimacy exercises for married couples have proven to be effective over time. Most of my clients who have used it have often come back to share the good news and testimony after they have rigorously and consistently implemented these activities.
I hope that as you've read it that you will go back, reread, understand, and implement it with your partner and see how beautifully your marriage will blossom.
Pin this for later!