Morning dates might not be the rave because much attention has not been paid to them. More popular romantic concepts like date nights, rainy dates and even beach dates are considered to be the thing. This does not in any way make morning dates less romantic or less effective as a way of showing affection to your partner.
Morning date ideas are as romantic as its counterparts, and most couples who have adopted morning dates see it as a break away from everyday romantic gestures.
Personally, I have infused morning dates into my marriage, and so far, it has proven to be beneficial because it contributes to the start of a beautiful week or a beautiful day for me and my significant other and has helped me become a better lover.
The morning date ideas I have used repeatedly are what I'd be sharing with you in a bit that will boost romance in your relationship and make every morning worth waking up to.
Are Morning Dates A Good Idea?
Morning dates are a very good idea because they help you stay on your partner's mind throughout the day, direct the beautiful morning energy into bonding, and give the two of you a great start to your day. If you want to do something different and more romantic, morning dates are a good idea.
What Can You Do As A Date In The Morning?
There are lots of things that you can do as a date in the morning, and they include breakfast in bed, going to the beach, watching the sunrise, playing board games or binge-watching a show. These activities are what you can do in the morning as a date to help you and your partner bond.
30 Morning Date Ideas To Spark Morning Romance
These romantic morning date ideas are what you need to ignite the fire of romance in your relationship and bring you closer to your partner.
Fun Morning Date Ideas
Want to start your morning the fun way? These fun morning date ideas will help you and your partner start the day with love in the air, laughter in your hearts and energy in your bodies.
1. Try Out A New Brunch Spot
You could laze around the entire morning and then hit a brunch spot nearby to try some brunch. At this time, the brunch spot is likely not to be congested, so it is quiet enough for you and your partner to enjoy brunch. This is one of the fun morning dates you ought to try out with your mate.
2. Go To A Golf Course
Whether you can swing a golf club or not, just standing in the early morning sun and soaking it up a bit is a great idea. Going to a golf course with your partner is fun because you can either golf or learn how to golf. You also could goof around and have fun.
Side attraction; you get to enjoy the beautiful scenery and clean air that is associated with golfing areas.
3. Ride The Hot Air Balloon
The hot air balloon is the fun you need on an early morning; a beautiful chance to see more of your surroundings by being up in the air with your partner sounds like a deal. It's one of the fun and adventurous morning date ideas that you definitely want to add to your couples bucket list.
4. Visit The Farmers' Market
The best time to visit the farmers market is in the morning. If you want to buy stuff, mornings are the best time to get agricultural produce from farmers at the best prices. Even if you don't want to buy anything, a break away from the hustle, honks and bustle of modern life is what you need.
5. Do A Morning Exercise
A morning exercise with your partner sounds like the "IT". Working out with your favourite person in the world is a beautiful experience that should be shared and could become a consistent morning routine you can always follow with your partner.
6. Go Rock Climbing
Climbing rocks, staying fit together, and strengthening your bond are one of the marriage goals you should try to achieve. It is one of the morning date ideas that is physically tasking, yet it's worth it.
Cute Morning Date Ideas
These morning date ideas for couples are the best morning date ideas to bring a tinge of colour to your cheek or your partner's. Incredibly cute and ridiculously cheesy, you should implement one of these and watch your partner blush furiously.
7. Watch The Sunrise Together
Get out of bed with your partner, wrap blankets around yourselves to protect both of you from the cold and watch the sunset whilst having deep conversations with your partner or just sharing the beautiful silence.
Simple and cute; this is enough to spark an early morning romance between you and your partner. It can become a romantic habit you can inculcate into your marriage.
8. Go To The Beach
Sounds like something you should do in the afternoon or the evening, right? In contrast, going to the beach in the morning is a lovely morning date idea. The clean air, beautiful scenery, and tranquil environment are romantic enough for you and your partner to connect deeply.
By the way, if you need more ideas on fun activities you can do with your mate, check out these 30 fun and romantic beach dates for couples.
9. Go On An Early Morning Drive
An early morning drive is stimulating as well as enriching. If you have kids in the house, this is a beautiful way to have a short couple's time early in the morning. Apart from being away from kids and responsibilities for a short while, you also get to enjoy the traffic-free road and unpolluted air.
An early morning drive is one of the cute morning date ideas and one of the things you can do with your spouse before 8am.
10. Ride The Bicycle Together
Riding on a bicycle and touring your neighbourhood is one of the beautiful morning date ideas for couples. You get to exercise, have fun, and bask in each other's presence.
11. Write A Letter
You definitely want to have your partner wake up to a heartfelt letter from your heart. This will have your partner blushing and grinning from ear to ear throughout the day.
Writing a love letter to your partner is one of the surest ways of sparking an early morning romance. Don't know how to get started? I have written a piece to help you write the best love letters.
Bedroom Morning Date Ideas
You don't want to leave your bed and still want to have your morning date; well, you can eat your cake and have it. These bedroom morning date ideas are what you need to have a rare memorable date in bed with your mate.
12. Do A Morning Movie Marathon
You could just wake up with your partner and binge-watch movies or shows. A movie marathon sounds like something you should do at night, but a change in time is a great idea. There are no distractions, and it's just you and your partner.
13. Do Breakfast In Bed
Either you or your partner can decide to rustle up breakfast while the other stays in bed. You can also choose to snack on the cookies you have stashed somewhere in the room. Whatever you decide, breakfast in bed has always been a major romantic move.
14. Listen To Music Together
Listening to music is one of the inexpensive morning date ideas that holds the same appeal as other morning date ideas you would have to spend money on. It is simple, classy and lovely in all the ways that matter.
You can curate a playlist of songs that mean so much to you or just listen to each other's playlists.
15. Play Board Games
Get your critical thinking skills pumping by playing a board game with your partner. On the bed, with your mind more active than ever, bond with your partner over an early morning game. You can place bets on who wins. Board games you can play include:
Chess
Scrabble
Crossword puzzle
Draft
Monopoly
Morning Date Ideas At Home
Morning date ideas at home are as practical as other kinds of outdoor dates. If you are not the outdoorsy type, this morning date ideas should be right up your alley.
16. Have A DIY Session
A DIY section! A perfect way to get your start on the day romantically and critically. A DIY section is definitely one of the early morning date ideas at home you need to add to your to-do list. You can fix something yourself at home or fix it with your partner with the help of DIY videos from the internet.
17. Make Breakfast Together
Making breakfast with your partner is one of the ideas for morning dates that always hits a home run. Making some waffles and coffee or bacon and eggs is an intimate cooking experience you should have with your partner.
18. Have A Yoga Session
A yoga section with your partner is one of the cheap morning date ideas you will definitely love to have with your mate. Unlike other morning date ideas, you get to quiet the voices in your mind and meditate deeply while enjoying the proximity of your partner.
19. Have An Early Morning Swim
No better romantic way to fully wake up than diving into the chilly water with your partner. It's one of the early morning date ideas that allows you to enjoy some time with your partner outdoors but alone.
Morning Date Ideas Near Me
If you need morning date ideas that you can easily enjoy with your mate without going far away from home, these are the best morning date ideas you will find because at least one should be right up your alley.
20. Go Hiking
Hiking is a great morning date idea; exercising your muscles with your partner is a great way to get the adrenaline pumping. Either in the process or after hiking, you are rewarded with the beautiful scenery of the trail you are hiking. If you have a hiking trail around your surroundings, hiking is a perfect morning date idea.
21. Get A Spa Treatment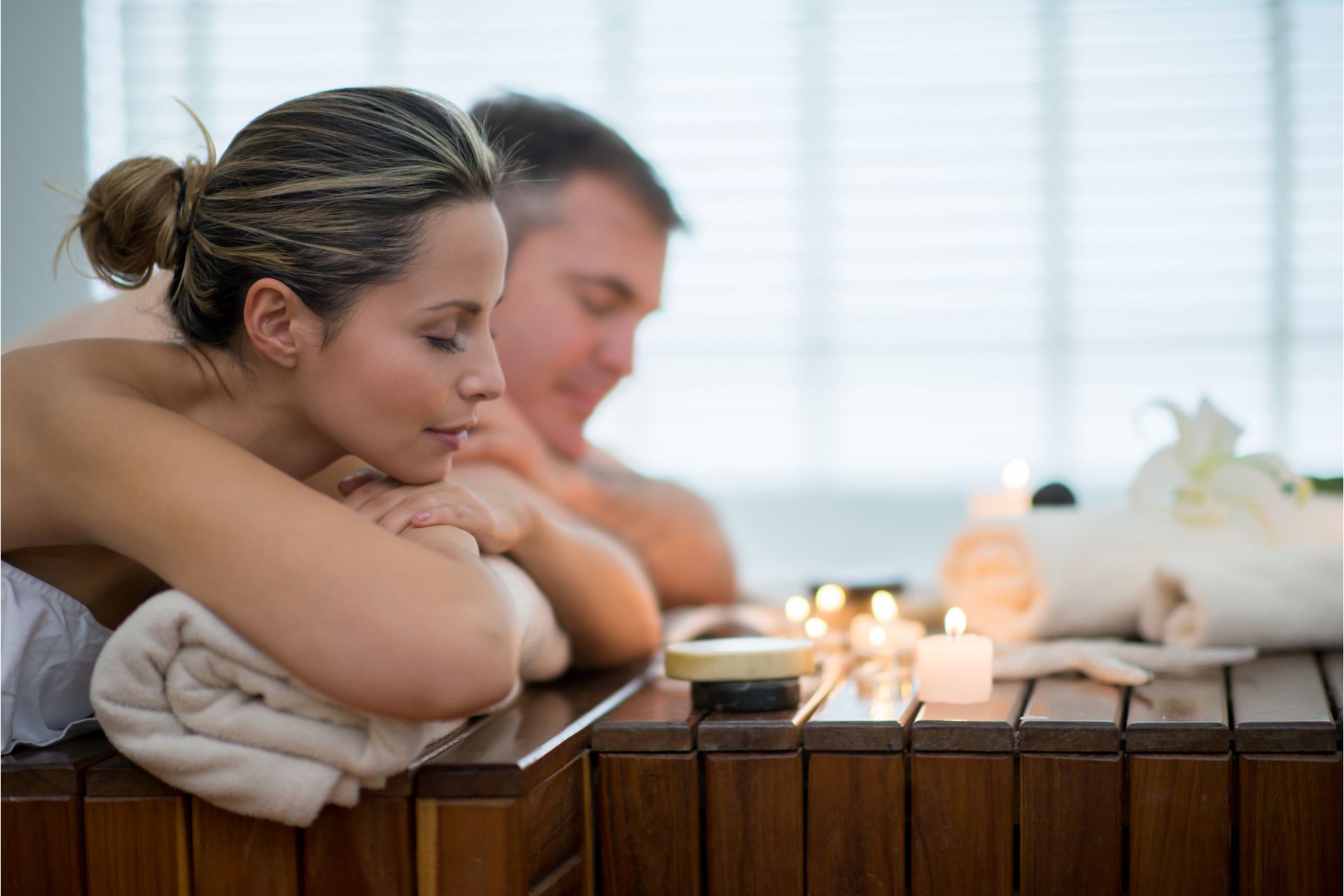 A spa treatment is one of the most relaxing morning date ideas. It's one of the morning date ideas you need to enjoy with your partner. Allow yourself and your partner to experience the beautiful process that helps you unknot and release the stiffness that might have accumulated in your body.
22. Visit An Art Gallery
Visiting an art gallery near you is a good idea. It's a romantic morning date idea that simply requires a location for you and your partner to visit.
If you or your partner is the creative type, portraits, pictures, and paintings are a sure way to be rejuvenated and refreshed early in the morning whilst enjoying each other's company.
23. Do A Breakfast Picnic
Get breakfast from your kitchen or a breakfast restaurant. Drive to a park and enjoy the early morning with your partner while eating. A breakfast picnic is one of the morning date ideas that help you express love to your partner and deepen your intimacy.
24. Have A Matinee
A matinee is also perfect for a morning date. You can go with your partner to an opera taking place near you or a theatre house to watch their stage performance. A matinee is a perfect way to end your morning date.
25. Go Horseback Riding
Get yourself zapping through the wind with your partner while you enjoy yourself on the top of a horse.
26. Walk Through A Garden
A rare delight; waking through a garden of flowers is one of the romantic morning date ideas. The breathtaking and colourful scenery, the beautifully scented air, and some time with your mate sounds like the best morning date to me.
Morning Date Ideas Winter
There isn't much you can do when it's snowing; the roads are slippery and might be blocked. However, the fun is still intact because these morning date ideas in winter are what you need to have a swell morning date with your partner.
27. Go To A Yard Sale
If there is a yard sale going on nearby, going there might be a great idea. It's a great way to bond with your partner and watch your partner super powers at haggling prices. It's also a fantastic way to enjoy the snow without doing much.
28. Build A Snowman
A beautiful morning date idea that is fun and childish is building a snowman. You need to let out your inner child and get some steam off by building a snowman together with your partner.
29. Do An Early Morning Photoshoot
Have you ever taken a picture of your looks early in the morning? I'm sure you're curious to see how your morning face would look in stunning pictures. Having an early morning photoshoot with your mate is one of the cutest things to do with your partner in the morning.
30. Grab An Early-Morning Coffee
An early morning coffee is a perfect morning date idea because you can either grab coffee at home or grab a coffee outside and warm yourself up with a stimulating drink. It's also a perfect way to enjoy each other's company while sipping coffee.
Final Thoughts On Morning Date Ideas For Couples
Morning dates for couples are slowly becoming a thing. What better time than to get into it now?
Morning dates are an experience you need to have with your partner. Waking up beside someone you love and doing something or having them do something romantic for you is a great way to start your day, enhance and enrich your love experience.
Pin this for later!