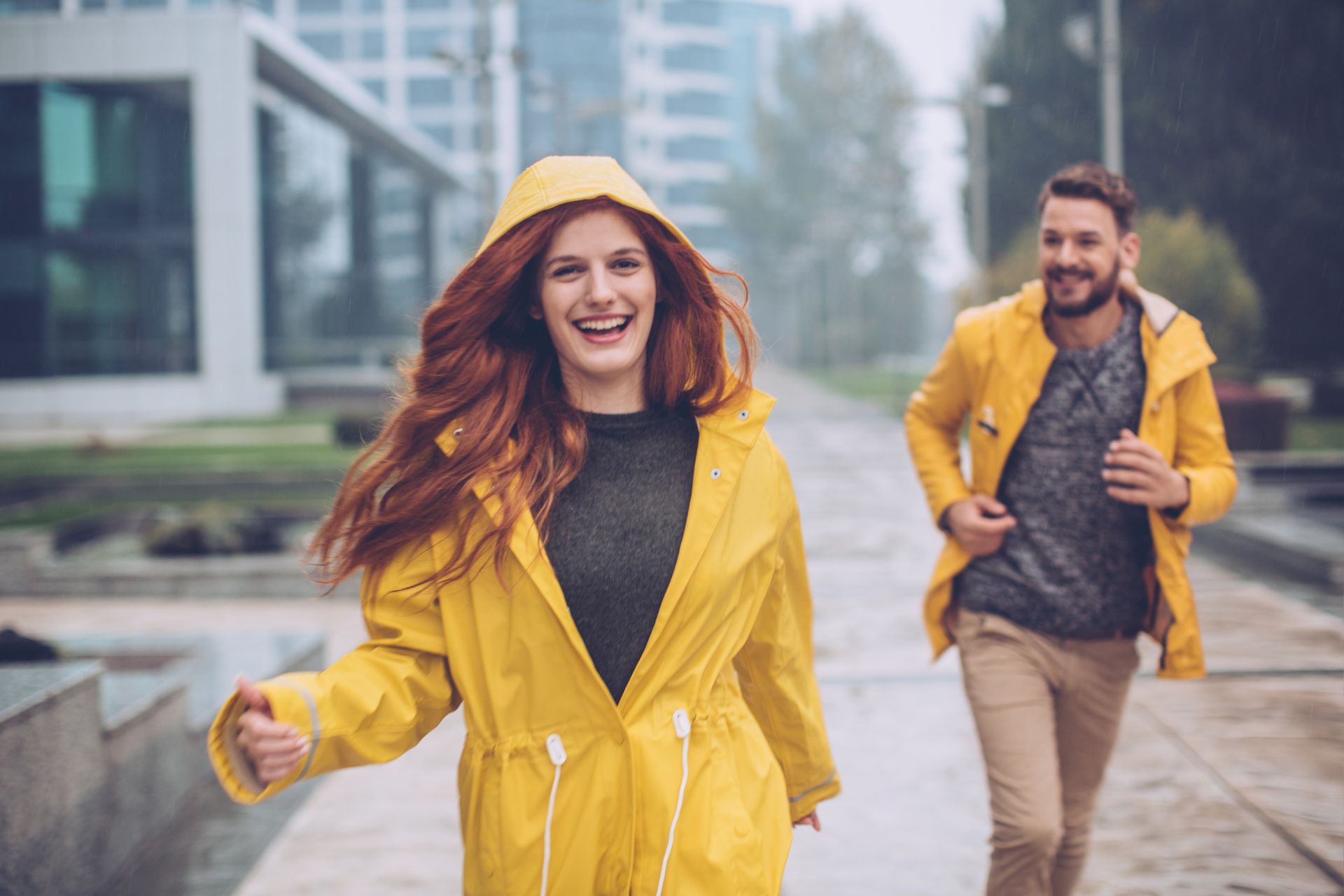 Looking for some cute rainy day date ideas?
Rainy days can often put a damper on your plans, especially if you are all primed and ready to paint the town with your lover. However, with a bit of creativity, you can turn a rainy day into a memorable and intimate experience with your significant other.
In this post, I'll be sharing the best rainy day date ideas and activities to help you make the most out of a rainy day and create a unique and mind-blowing experience with your mate.
Can Rainy Day Dates Really Be Fun?
Rainy day dates can really be quite fun and memorable especially when you and your mate are lovers of rain. With a little creativity and planning, there are plenty of fun indoor and outdoor activities that can turn a dreary day into a cozy and intimate experience.
What To Do On A Rainy Day With A Date?
There are plenty of rainy day date ideas that are a great opportunity to bond with your date and create some memorable experiences. Here are some activities you can do on a rainy day which includes board games, dancing in the rain, baking a cake, and getting matching tattoos.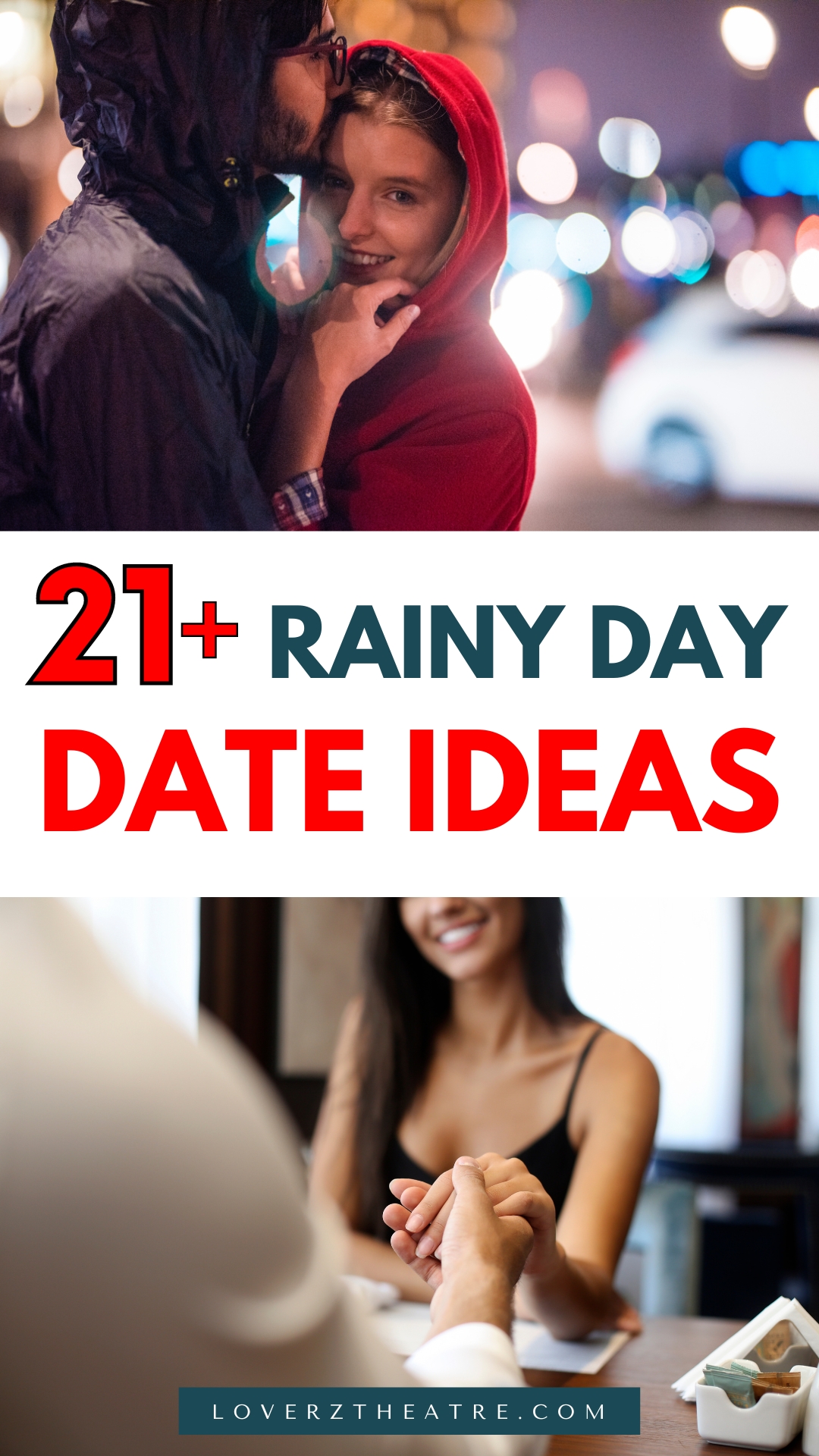 21 Best Rainy Day Date Ideas For Couples
Date ideas for rainy days can be pretty hard to come up with, especially if you do not like things not going as planned. You are probably freaking out and you don't know what to do. No worries, the list below comprises the best rainy day date ideas that will leave you wishing that rain falls throughout the year.
Fun Rainy Day Date Ideas
These rainy day date ideas are bound to leave you in stitches if you decide to have fun. So grab your umbrella, put on your rain boots, and get ready to have some fun!
1. Do Yoga
The cool air is perfect for practicing Yoga. Naturally, Yogis can be quite serious when practicing. When trying to still your mind, there is a tendency to be serious and that is something to avoid on a rainy date.
You can infuse the Tessa and Harry kind of Yoga fun. The most important thing is to have fun with your date. Having fun can involve making bets on who lasts longer in a particular position. It could also include laughing at your date's odd body shape in trying to do Yoga or just playing some cool music.
2. Play Dress Up
This rainy day activity involves creativity. This is one of the good date ideas for rainy days because it unleashes your creativity and your ability to improvise. Dressing up like other people is a fun rainy day date idea and a great way to bond and have fun together.
Your inner comedian stands a chance to be unleashed, and of course, you can also take pictures with weird faces that match the costume.
3. Have A Staring Competition
Have you ever stared at someone just for the fun of it? If you have never done it, cool, now is the perfect time to start. Make a bet with your date on who blinks first and see how hard it is for your date to control their reflex action.
4. Learn New Stuff Together
Learning new stuff is a beautiful way of broadening your love experience. A rainy day date might turn out to be quite educational. There are several things to learn, from the names of the capital of countries to complex stuff like learning a new language.
5. Play Mixologist
Ever been to a bar and was incredibly thrilled at the expertise with which the mixologist mixed your drinks? You could recreate that. Playing mixologist is a fun date idea because you and your date are most likely to get drunk on the weirdest-tasting cocktails ever.
6. Go To A Library
Going to the library is one of the most romantic rainy day date ideas ever. Try remembering those scenes in movies where lovers go to the library and end up stealing kisses or making out between the rows of books. You could recreate that.
Having tried it once, it has sort of become a fetish for me and my man. The thrill you experience at the thought of getting caught makes it exceptional, and we all know stolen pleasures are definitely thrilling.
Romantic Rainy Day Date Ideas
These rainy date ideas will leave you blushing and mushy on the insides at the same time. They are pretty intimate in nature and one of the great bonding activities for couples.
7. Read For Each Other
Reading for each other sounds boring and nerdy, right? After having your date ruined by rain, the last thing you want to do is curl up and read with your date. In contrast, reading is one of the most underrated rainy date ideas. Pick a lovely book with your partner, something you both would love to read and take turns reading to each other.
There is something intimate about being in bed, relaxed, and reading out in low tones. Reading to each other brings you and your date closer because it is a time away from TV, and a great bedtime routine; talking to your partner about the book you both read.
Looking for more bedtime routines for couples? Click here!
8. Take Pictures
You both can go professional or simply bask in the amateur knowledge of photography. Whatever gadget you have at hand will work fine but make sure you protect it from rain. Taking pictures in the rain, capturing your partner getting wet, and capturing the tiny drops of rain is just something to be delighted about.
9. Draw A Bubble Bath
Showering together has an intimate feel; relaxing in a bubble bath is way more intimate. You and your date choosing to be in your birthday suit is a great way to revive a ruined date night.
With glasses of wine in your hands, the luxurious feel of skin-to-skin contact, some sweet-smelling oil in the water, just having a great conversation, or simply sharing the silence is one of the most intimate rainy day date ideas you will ever experience.
10. Go Through Old Photos
Do you have photo albums of you and your partner? You can bring them out and relive old memories. It's a great rainy date night idea. Why not take a trip down memory lane and see how far you have come? If you don't have one, it's okay.
How about individual photos of you and your partner? You can bring them out and have a trip through each other's history. Questions are bound to come up when you come across some pictures that spark your curiosity; it is a great way to bind and heal old wounds, if there are any.
Rainy Day Date Ideas At Home
Rainy day date ideas at home can be both romantic and cozy, offering the perfect opportunity to spend quality time with your significant other. Check out these fun rainy day date ideas at home that'll help you and your mate to make the most of a rainy day together.
11. Play Truth Or Dare
A golden chance for you to get your partner's deepest secret or darkest desires at no cost at all. A way for you to test your partner's limits and know how daring they can be. Whoever loses can take shots; it could be a shot of whiskey or any alcoholic drink.
Looking for a bucket list of questions to ask? Check out these 200 tantalizing truth or drink questions to spice up the moment.
12. Play "Catch Me If You Can"
Around the house or the sitting room, you can chase each other around and attempt to catch the other. This is a great way to get the adrenaline pumping. You get the chance to see how athletic, mysterious, and reflexive your partner can be.
13. Watch A Horror Movie
The heavy downpour of rain coupled with scary scenes from horror movies is a great rainy date idea. Remember that you have the liberty to jump on your partner's body and lean on him for protection. This is one of the best rainy day date ideas at home.
14. Have A Deep Conversation While Drinking Hot Chocolate
Your partner opening up to you while cooped up on the couch over a hot cup of chocolate hits home differently and is pretty therapeutic. Being cooped up in your mate's arms or just sharing a beverage sets the atmosphere for vulnerability and a step toward greater intimacy.
If you don't know how to start these deep conversations, no worries, check out these 200 deep conversation starters for couples.
15. Indulge In Arts And Crafts
Bring out your hidden Leonardo da Vinci. You could offer to paint your partner. A canvas, some paints, and a brush are all you need to make history with your partner. You could draw your partner, or any objects or just splash some colours together and call it a fancy name.
Outdoor Rainy Day Date Ideas
If you still want to experience rainy day dates outside, you are in luck because some of these ideas will leave you happier and make your date more meaningful.
16. Go See A Movie
Going to the cinema is a great outdoor rainy date idea. Romcom, tragedy, sitcom, or action, whatever rocks your boat. Just have fun and share beautiful moments with your partner over some popcorn and soda.
17. Go For A Massage
You can visit a massage shop in your city and enjoy the night with an expert untangling the knots in your body. After a stressful week, this is one of the laid-back kind of outdoor rainy day date ideas that you need to de-stress.
18. Go For A Swim
Swimming in an outdoor pool while it's raining is a different kind of outdoor activity. Popular for the romantic feel it brings to both partners. Going for a swim together is a great way to deepen your intimacy on a date night even though you're outdoors.
19. Grab A Coffee At A New Cafe
Grabbing a coffee at a restaurant is one of the most leisurely rainy day activities for couples. What makes it better is downing a warm cup of coffee and watching the rain platter down the roof through the windows. It could be a new cafe or just the local cafe in the neighbourhood.
20. Take A Rain Walk
This is definitely one of the cute rainy day date ideas. A rain walk huddled together under an umbrella and having the rain pelt your legs and feet. This is a great date idea that even scriptwriters adopt in their scripts. So why not have fun writing your love story under the rain.
21. Dance In The Rain
With or without loud music, you can have fun dancing with your partner in the rain. From waltzing to tango to tap dance, you can make incredibly funny moves with your partner. Don't forget to keep yourselves warm when you finally get out of the cold. Also, remember to steal a kiss or two while at it.
The Bottom Line On Best Rainy Day Date Ideas
There are plenty of activities you can do on a rainy day with a date. You can take the date outdoors or keep it indoors. The idea is to make the best of the situation at hand and simply have fun.
Pin this for later!