The hustle and bustle of everyday life can affect your intimacy with your partner if you are not careful, and that is why late night dates are a thing. You might have a great job and that is understandable but if you are really intentional about making your relationship work then late night date ideas should find their way into your bucket list.
Also, if you work long hours or shifts that leave you tired at the end of the day yet you still desire to spend some time with your better half, late night dates are the best option.
Late night dates help refresh your relationship, give you a different feel to the everyday relationship that you have with your partner, and spice up your relationship in the ways that matter. Having a late night date is a testament to how much you want your relationship to work, how much you want to maintain your relationship, and how much effort you are willing to put in.
So, it's beautiful to see people who are busy and yet maintain that flow of intimacy with their spouse through late night dates. If you and your mate are night owls, then late night dates are perfect.
My husband and I have had some busy months and busy weeks and yet this has not in any way affected our relationship because we are really intentional about spending time together. So even if we both have long days, we always try our best to have a date at least once a week; no matter how busy the week is and this has in many ways helped strengthen our relationship.
I have personally tried out these late night date ideas and found them to be effective in building a stronger relationship. In order to help others strengthen their own relationships, I have compiled and written them down for you to try out.
What Are The Best Late Night Dates?
The best late night dates are often the ones that leave you feeling refreshed and loved. You might have had a long day or a bad day but these kinds of dates leave you feeling happy and loved and they include karaoke nights, food truck tours, going to the cinema, board game night, making a scrapbook, or swimming.
25 Best Late Night Date Ideas To Keep The Spark Alive
These 25 late night date ideas below are the best late night date ideas that you need to make these dates memorable.
Fun Late Night Date Ideas
These fun late night date ideas are the best late night activities for couples and are filled with loads of fun.
1. Drive-In Movie Date
Having a drive-in movie date with your partner is the epitome of relaxation. It's the perfect activity for a night out, and it's always worth it. You don't have to leave the comfort of your car, but you still get the full cinematic experience.
In my opinion, it's one of the best late night date ideas and one that you should adopt.
2. Karaoke Night
A karaoke night with your favourite person is one beautiful experience that you should definitely have. It's a time for you to unleash the singer in you and it's also a time for you to serenade your partner with love songs (if you do know how to sing).
Imagine singing love songs to soothe the weary heart of the love of your life after they've had a long day? I wouldn't pass this up!
3. Go On A Food Truck Tour
If you have had a very busy day and you want some dopamine rush that comes with food, then a food truck tour is the one for you. You get to enjoy so many tasty treats, enjoy different kinds of food, snacks, and pastries.
4. Go To A Museum Or An Art Gallery
If you want something fun and chill at the same time without having to exert too much bodily movement, then going to a museum and art gallery is something for you. If you are the artsy type that staring at paintings helps you relax, then this is the perfect idea to try out.
5. Comedy Night
According to Psychologists and Doctors, laughter is one of the best ways of relieving stress, and a comedy night is the thing for you if you are stressed out. Look for a local comedy house and give yourself and your date the gift of laughter.
Sharing laughter is one of the fun late night dates, it is one of the best ways to end a night.
Cute Late Night Date Ideas
These cute late night date ideas will leave you feeling all mushy and feeling good with your better half. They are the best because couples get to spend quality time together.
6. Spa Dates
Spa dates are one of the best late night date ideas to do with your partner because they help you relax and de-stress.
The benefits of spa dates are endless. Spa dates help you unknot all the stress in your body. It is an intimate way to spend time with your significant other, enjoy luxury, and at the same time, it contributes to enjoying a better sleep schedule which consequently makes you mentally ready for the hustle and bustle of the next day.
7. Visit An Amusement Park
For most couples, going on a date to an amusement park will always be a thing because it's always a beautiful moment you have with your partner.
Ever seen movies where couples go on late night dates to an amusement park and they have all the fun in the world going on the ferry ride and other entertaining rides? It means that an amusement park just brings out the child in you and makes you have fun in a really unrestrained way.
Visiting an amusement park is one of the best cute late night dates because it always hits a homerun.
8. Go To A Cinema
I might not be up for going to the cinema during the day but I'm certainly up for going to the cinema late at night. This is because there aren't many people in the cinema so it's almost always like a private show giving the private cinema vibe. It helps you have a quiet peaceful time with your favourite person.
Going to see a movie at the Cinema is one of the best late night date ideas outside you will ever find. If you are a night owl and you can stay up watching movies, then going to the cinema with your mate is a very beautiful way to have a late night date; it's one of the ways to destress, share love, and steal some kisses with your partner.
9. Stargaze
Stargazing is not highly rated but it is a cute late night idea even if you would sit looking at the stars with your mate. There is something intimate about sitting with your partner and sharing the silence or having a deep conversation. It's intimate in a way that cannot be explained but experienced.
If you want a late night idea that does not have to make you go around or make you do a lot, stargazing is one of the best things to do.
Romantic Late Night Date Ideas
Date night ideas are often synonymous with being romantic but there are definitely some that are more romantic than others, and these are what I have compiled for you in this particular section because it's bound to leave you feeling loved up, appreciated, and special.
10. Read To One Another
One of the best late night activities for couples that are romantic is reading to one another. So why do you call your spouse during the day to hear their voice? This late night date idea is the perfect chance for you to have your fill of sweetheart's sonorous or bass voice.
This is the perfect time for them to read to you and for you to get lost in the harmony of their voice and the pleasure of their presence.
11. Go On A Ferry Ride
Let's recreate the magic of the Titanic, but with a twist. Imagine a late-night date under the stars, where you and your significant other can bask in the beauty of the night sky and each other's company. It's the perfect way to spend quality time together and create unforgettable memories.
The romance of the moment is indescribable; it's something that must be experienced firsthand. So why not embark on this enchanting adventure and see where the night takes you?
12. Ride A Public Transport
Ever watched heartwarming scenes where the hero or heroine gets on a bus and spends time in deep thought while riding around with the bus? This is the perfect late night date idea for you if you need to have a deep conversation with your partner without staying in one place. Also, if you like to watch people or you want to experience new sceneries then this date night idea is perfect for you.
Riding public transport with your sweetheart is one of the romantic late night date ideas and a wonderful way to end the day with your mate on a good note.
13. Luxury Dinner
How about taking your favorite person out and experiencing the rare delight of eating some good food while watching the skylight with a great balcony view?
A luxury dinner is the perfect late night date idea because it's romantic having your partner all dressed up and looking good, eating from a table full of food, in a great environment, or with well-lit candles dancing around the night.
It is one of the best date night ideas I have ever had with my partner and always remains evergreen in my mind.
At-Home Late Night Date Ideas
You are so tired that you feel like your bones might drop and you do not want to go out but want to have a good time with your favorite person. This late date night idea is perfect for you; no stress but you get the same pleasure as those who are outside.
14. Listen To A Podcast
This works better if you both share the same interests. Listening to a podcast is a perfect way to bask in each other's presence and also learn new stuff, so a podcast is one of the perfect late night date ideas that you would want to adopt.
You can also listen to a relationship podcast because it betters your relationship in the end. If you need a list of mind-blowing podcasts on relationships, I have just the perfect list for you here.
15. Cheese And Wine Date
Cheese and wine never go out of fashion. Snacking on cheese and enjoying some good wine is the perfect way to unwind after a stressful day or is the perfect way to enjoy each other's presence catching up on each other's day, so this is something you would want to do. A cheese and wine date is one of the classic late night date ideas at home.
16. Host A Game Night With Other Couples
A game night with other couples is the perfect way to spend the night. If the couples are people who live around you then it's one of the perfect late night date ideas that you can have. Game nights can involve trivia night and a whole lot of other games that interest you.
Need ideas on more couples double date night ideas? here it is.
17. Board Game Night
A board game night is the perfect way to unwind with your partner. It helps you relax and put your critical thinking skills to some good use while having fun with your partner. A board game night never gets old. It's an amazing way to have great fun with your partner and one of the coolest at-home late night date ideas.
Creative Late Night Date Ideas
Whether you are artsy or not, these creative late night date ideas are what you need to help you relax and spend some quality time with your spouse. It's also a way to get your artistic abilities out there or use it as a form of therapy.
18. Try Indoor Skating
Looking for late night date ideas near me? Indoor skating is one of the easiest and perfect late night date ideas because it helps you stir up the adrenaline rush, helps you have good fun, and allows you to find creative ways to skate and spend time with your mate.
19. Enjoy A Painting Session
If you want to enjoy the therapy that colours have to offer then a painting section is the best way to have a late night date. Also, a painting section is a perfect time to have good conversations, enjoy good music, and sip on good wines; this makes it a choice date for most couples and it's one of the amazing late night date ideas for couples.
20. Take A Photo Walk
The night is beautiful, the city at night is more beautiful; the city at night illuminated by light is most beautiful and you want to capture these beautiful sights with your partner.
A photo walk is one of the best ways to unwind because you get to enjoy the beautiful scenery, beautiful air, and free roads. It's a special time to have fun with your better half and also take beautiful photos of the street, people, yourself, and your partner.
21. Make A TikTok Video
Creating a TikTok video late at night with your significant other is a perfect late date night idea. Recording yourself doing your favourite thing or one of your hobbies that relaxes you is a way to have a good time with your mate, have fun and be happy. Sharing it with the world is blessing us with some goodness from your life.
Cheap Late Night Date Ideas
Cheap late night date ideas are always fun and one of the best ways to enjoy the company of your partner without breaking the bank, these are dates that do not require much but just your attention and your physical presence.
22. Have A Movie Marathon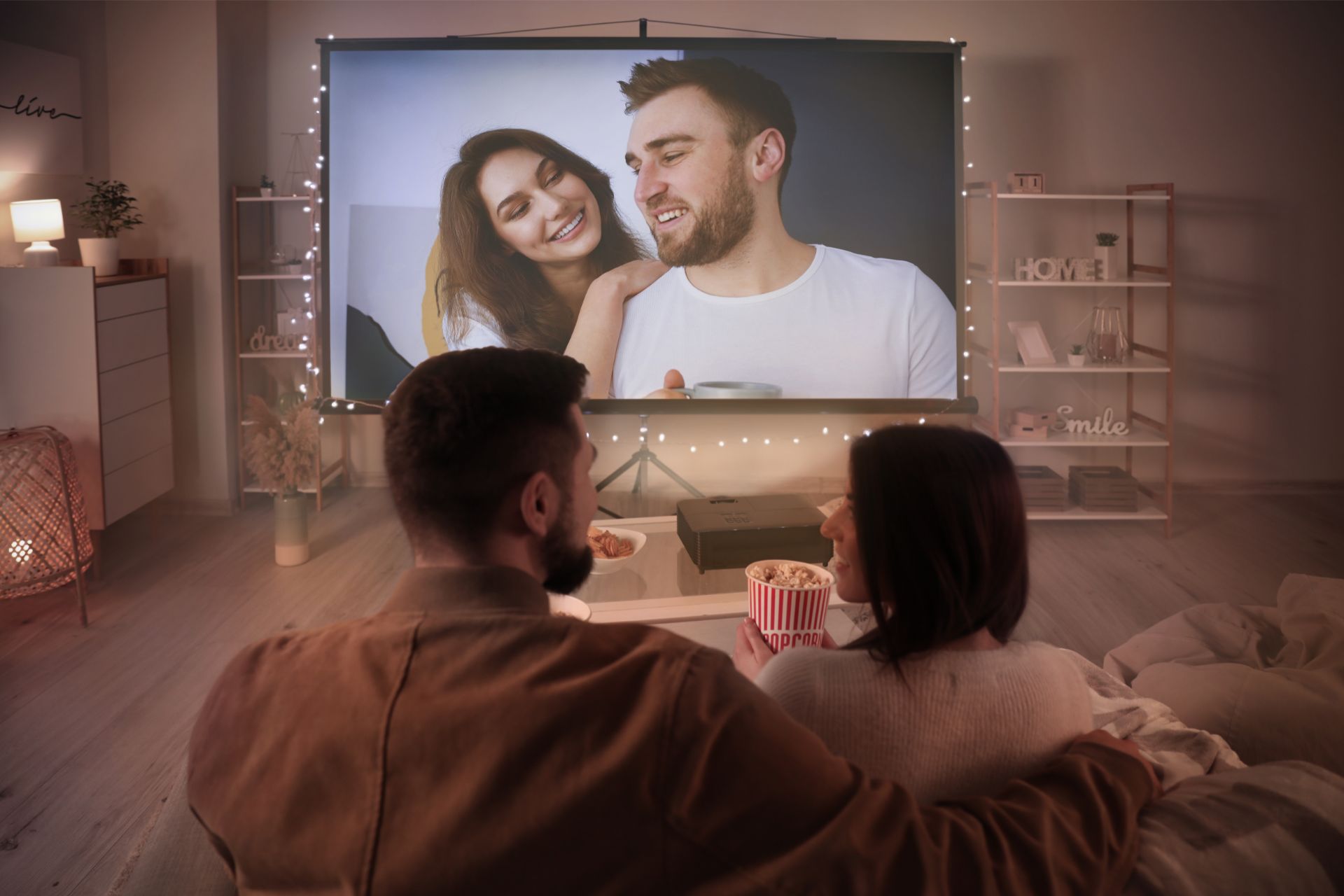 A movie marathon never goes out of fashion for couples who truly want to spend time together after a very stressful day, it's a way to spend quality time while watching some form of entertainment.
23. Make A Scrapbook
Making a scrapbook is definitely one of the most wonderful cheap late night dates. It's a perfect way to reminisce on old memories, see how far you've come, and create new enchanting memories by compiling them and condensing them into a book.
A scrapbook is just a cute romantic and no stress-free way to enjoy quality time with your partner doing the things that matter to you both.
24. Try Hallway Bowling
Why go through the hassle of driving to a bowling alley and paying a fee when you can have just as much fun by creating a mini bowling arena in your own hallway?
With just a few waste bottles and a ball or two, you can enjoy the same level of excitement as those in an actual bowling arena. Plus, it's a great way to reuse household items and save money! This is one of the free late night date ideas with loads of insane fun.
25. Go Swimming
There is something extra special about water at night and it could be swimming in an artificial pond or swimming in a lake at night. Either way, it's chilling and refreshing, and it's an intimate way to spend time with your favorite person without spending a dime.
Final Thoughts On Late Night Dates
Late night date ideas are amazing in their own way, and it's a way to end the night on a good note. If you really want to have a good time with your partner, mixing up your date night with beach dates, rainy dates, and morning date is a powerful way to spice up your relationship life, and this is one of the ways to keep the spark burning.
Most couples with tight schedules always testify to the goodness of late night dates and how it works wonders in their marriage.
Pin this for later!