You don't have much experience when it comes to planning a date and yet you want to give that person you love a perfect date, one that they can never forget. You are in the right place. These date ideas for teens will help you give your special person the perfect date experience.
You don't have to worry about using up all your savings or asking your guardians for money because this list of teen date ideas has been carefully compiled and is pocket friendly. Most couples who started as teens swear by these dates and their uniqueness.
Is Dating Good For A Teenager?
Dating is good for a teenager because it helps you grow emotionally, build your interpersonal skills, gain experience, and increase your self-esteem. If you get it right, you are saved from the stress of having to date countless people in your 20s before you settle down with the special one.
What Are Some Good Date Ideas For Teens?
Some good date ideas for teens include bike rides, watching the sunset, having a karaoke party, having a riverside date, visiting the zoo, and cooking together. These teen date ideas are very affordable, creative, and insanely fun.
30 Insanely Fun And Cute Date Ideas For Teens
These teen date ideas are guaranteed to give you a beautiful date experience and will further broaden and enhance your love experience. You want to ensure that you do this properly, so read carefully.
First Date Ideas For Teens
These first date ideas for teens are good date ideas for teens because they help create a good impression on your date partner and make a memorable first date experience. If you need more first date ideas, I have written a well-articulated piece on 21 fun first date ideas for teens.
1. Ice Cream Date
You can never go wrong with ice cream as a first date idea because it's beautiful to enjoy each other's presence while the flavours of ice cream explode in your mouth. This is one of the simple date ideas for teens because it is a way of getting your date to be comfortable with you and knowing their preferences beyond ice cream.
2. Go Bowling
Bowling is one of the best date ideas for teens because it helps you start with your date on a casual note, keeping things relaxed as channels of communication open up based on your interests or what is going on around you. It also allows you to show off your competitive side. As much as you want to win, be sure to have fun with your date.
3. See A Play
You have a theatre in your town and you want to create an impression, seeing a play with your date is a great idea. It's best if your partner likes dramas and live shows. However, if you have a comedy show in the theatre, sharing a laugh through a play is one of the fun date ideas for teenage couples.
4. Get Dinner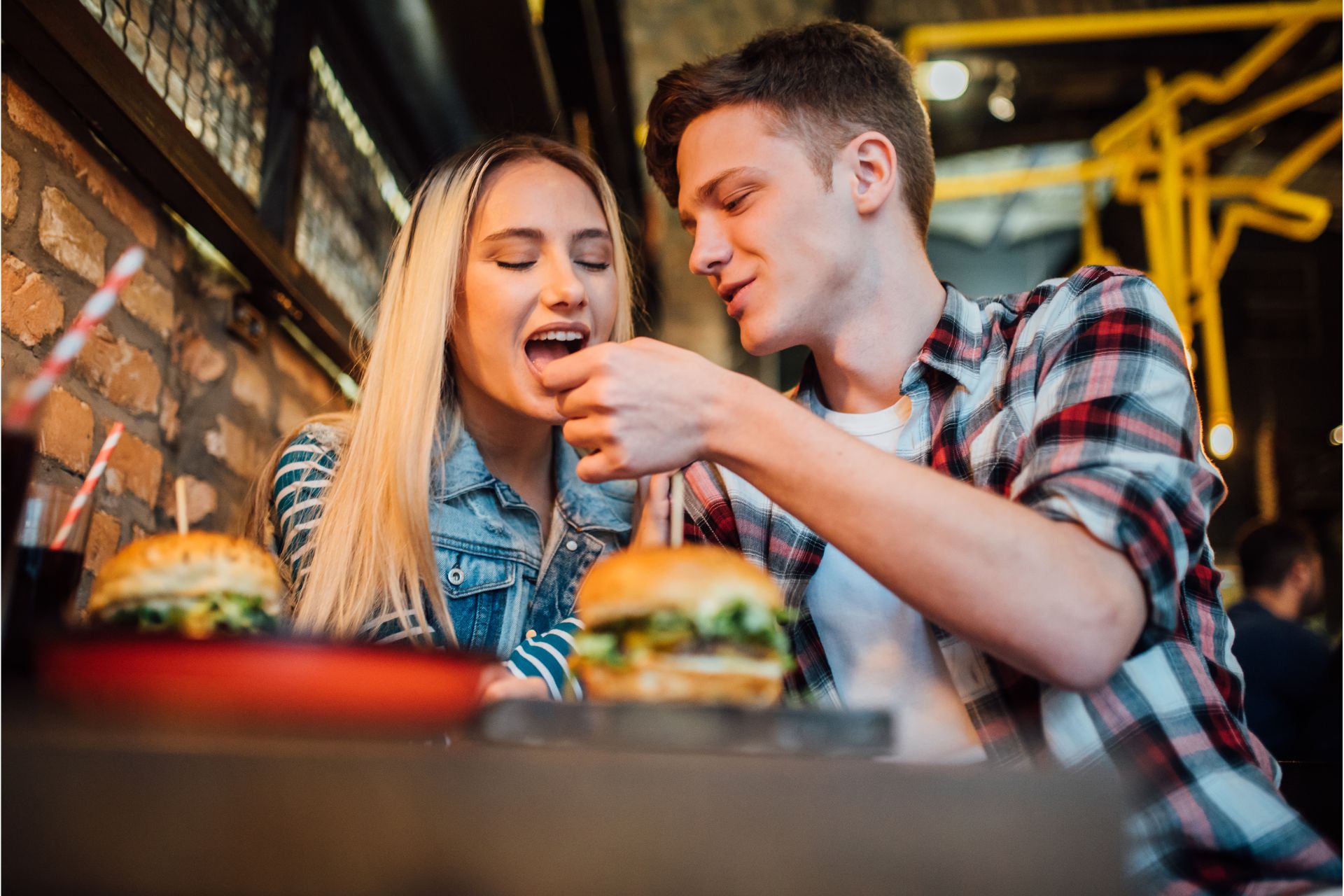 You can decide to make it a corporate affair. Get a good restaurant, you can also take the liberty of reserving a table in the restaurant. This is one of the formal date ideas for teens and a great first date idea. It's a great time to bask in the warm glow of the lights and is a date idea for the books.
5. Have A Picnic
Packing some snacks and drinks to spend time with your date is one of the classic date ideas for teens. You can go to a beach, a flower garden, or an amusement park. Whatever your choice is, ensure that you have fun with your partner and that the place is serene enough to allow you to enjoy your partner's presence.
6. Go On A Coffee Date
Getting coffee is a perfect first date idea; you can do it any time of the day, and it will still be perfect. Coffee dates are one of the dates that are always evergreen and can never go out of fashion. A coffee date is an ideal time to know your date's preferences and know their other interests apart from coffee.
7. Bake Cookies
Couples who bake together stay together. One of the fun first date ideas for teens is to make your date come over to your place and bake a cake or cookie with you. Make sure to have enough fun even though whatever might be baked might not turn out well.
Fun Date Ideas For Teens
These fun date ideas for teens are the most fun experience to have with your date; it's a highly recommended date to have with your partner and bring smiles to their faces.
8. Explore The Mall
You don't need to shop; you just need to walk around the mall and have fun with each other. If you want to get something, it is also a great idea. It is a great way to have fun with your partner.
9. Stargaze
Stargazing is a great date idea especially if you are interested in stars or your partner is. You can lay a blanket on the grass or go up the roof to watch. Make sure you are safe to avoid falling off.
Stargazing is a great date idea because you get to see your partner loosen up and teach them one or two things about stars or vice versa.
10. Go For A Walk
A walk is always a classic date idea because it fits all age grades. Going for a walk with your date is simple and beautiful. Enjoy nature's scenery while having deep conversations with your date.
11. Visit The Library
The library is fun to have a date in. First, you can read a book together, you can browse books in the aisle and discuss your interests, and you also have the chance to steal a kiss or two using the aisle as camouflage. The thrill of getting caught makes the date more memorable.
12. Explore A Local Market
A local market is one of the fun date ideas for teens. If you know your way around the market, you can play the tour guard. If you don't know your way around the market, it does not matter because the aim is to have fun.
13. Play Video Games
Video games are great date ideas that you certainly want to have with your partner. You can either learn by playing together or having your partner teach you or teaching your partner. You can call dibs on who wins and have the winner make a wish.
14. Visit An Arcade
An arcade is a perfect date idea for teens. It's a nice time to bring out your competitive side and surprise yourselves with whatever gifts you get from playing many games.
It is a casual kind of date and a safe way to start conversations. It's one of the perfect date ideas for teens if you feel too shy to start a conversation.
Cute Date Ideas For Teens
These cute date ideas for teens are bound to have your date blushing furiously because they are the top date ideas for teens. They are beautiful, cringe-worthy, and perfect for the books.
15. See Movies Together
You can't go wrong with seeing the movies. Going to the movies is a great date idea as you have the chance to share popcorn and drinks with your partner. You also get to impress your partner by allowing them see a movie they want.
16. Go To The Games
The games are a great date to have with your partner. Wearing matching jerseys and watching your partner scream in support makes for a beautiful sight. You might just be caught on the kiss cam.
17. Go Ice Skating
Ice skating is one of the fun date ideas for teenagers. Skating is a great way to be active and bask in each other's presence. It is also fun because you get the chance to laugh at each other.
18. Go Skinny Dipping
We have the Tessa and Hardin kind of date going on here. Skinny dipping is a cute date idea, a way to challenge your partner to loosen up and have fun.
You must find a river that is safe and clean before using it. Ensure that your partner does not have issues with water and will enjoy it with you.
19. Visit An Amusement Park
Please keep it simple by going to the amusement park and getting on the Ferris wheel or Merry-go-round. Don't think an amusement park is a childish idea; even adults go on dates to amusement parks. Make sure to have fun and create a lot of fun memories.
20. Visit The Zoo
The zoo is a wonderful teen date idea; you get to visit the animals and enjoy the beautiful scenery. The zoo is also a perfect date to help you enjoy and appreciate nature. It is a way to spend quality time with your partner.
If one of you is an animal lover, it makes it all the more better.
21. Go Hiking
Hiking never goes out of fashion; it's a thing. Enjoy the reward of the panoramic view of the land when you hike with your date. Ensure to have the appropriate hiking equipment and be sure your date is on board with hiking.
22. Watch The Sunset
It is one of the classic date ideas for teens and one that always hits a home run. The simplicity and tranquillity that accompanies watching the sunset are better experienced.
While taking a glass of drink with your partner, you enjoy seeing the beautiful sun going down.
23. Go To The Beach
Beach dates are always evergreen because they are beautiful and provide couples with the best experiences. There are lots of things that you can do on a beach date and it includes:
Kayaking
Playing frisbee
Exploring tide pools
Reading
Meditating
Need more beach date ideas? I have written a complete piece to help you have the best beach date experience ever.
24. Volunteer Together
Volunteering together adds value to both of you while you have fun and enjoy working alongside your partner. It is a way to get your partner to be interested in what you do and develop similar interests.
Cheap Date Ideas For Teens
You might not have much money on you and feel this will affect the quality of your date. This is not true; your date will be as fun as you want it to be when you explore these cheap date ideas for teens that are fun and affordable.
25. Study Together
Studying together will help you exchange ideas and enjoy each other's presence. Study date is a cheap date idea because you don't need to break the bank. You get to peep at your date's studious face and enjoy the warmth of their presence. You can have a study date at your house, the library or a calm place.
26. Do A TikTok Challenge
TikTok is the thing now and what better time to join it than now? You can create videos with your date and upload them, you can also join one or more of the numerous TikTok challenges. You don't know the hidden talent you have that might just pop up when you start making TikTok videos.
Doing a TikTok challenge is one of the most creative date ideas for teens without spending a dime in this day and age.
27. Netflix At Home
This is the chill and laid-back kind of date. It is easier to invite your date over and watch a nice movie than go through the hassle of going out. Make sure to have refreshments and make it a beautiful experience for your date.
28. Solve A Puzzle
Crank up your mental process by solving a puzzle. You can play it together with your partner. Show off your competitive side and enjoy their mind tricks. You can solve puzzles like Tetris and Word puzzles.
29. Play A Sport
One of the cheap and adrenaline-pumping kind of teenage date ideas is playing a sport with your date. You can play basketball, volleyball, handball, or soccer. The list is endless; just have fun.
30. Ride A Bicycle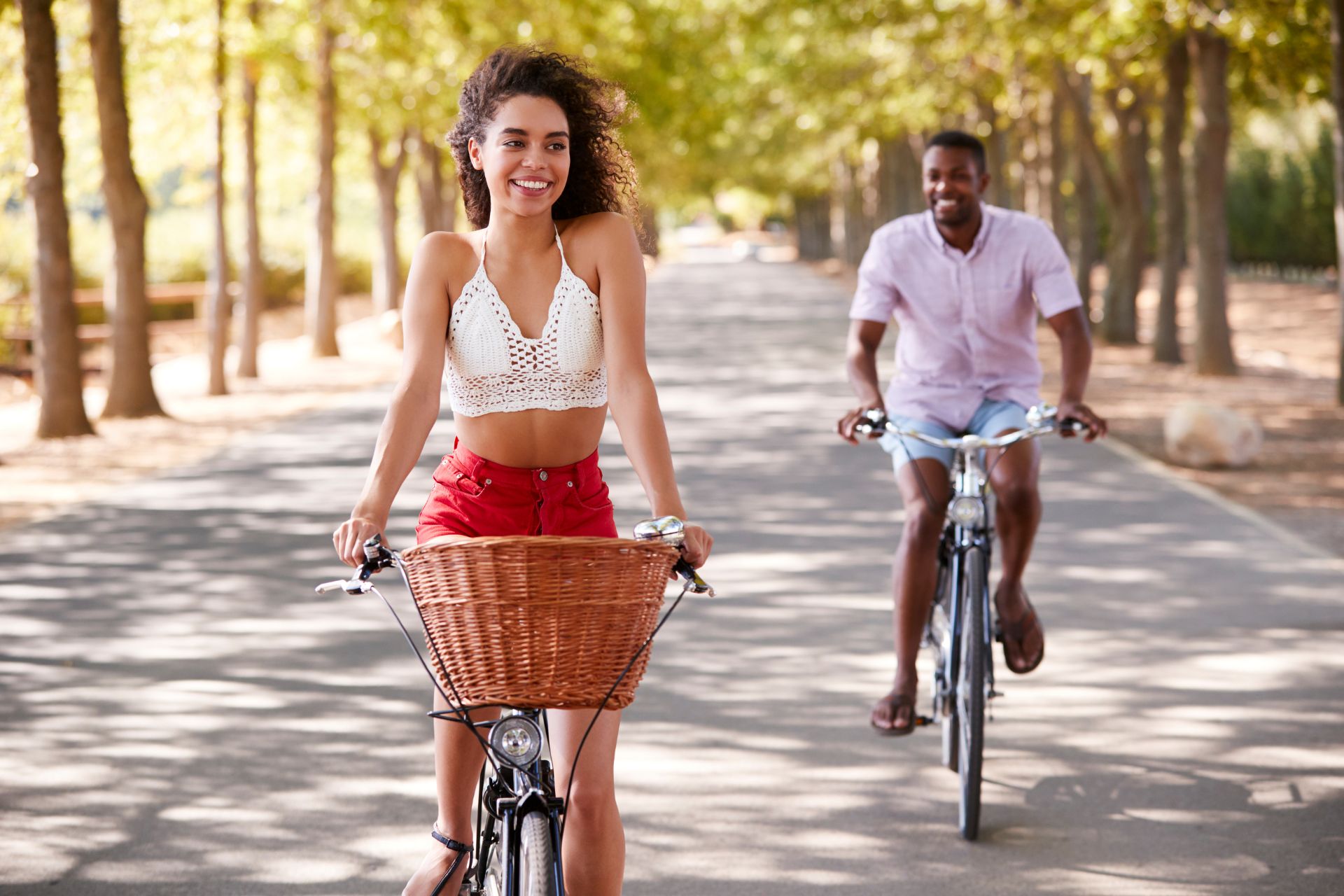 A bicycle ride is one way to enjoy your date. You can get a single bicycle or double-seat bicycle and ride while enjoying the beautiful scenery and the clean air. Riding bicycles is one of the most simple yet romantic date ideas for teens.
Final Note On Date Ideas For Teens
Teen date ideas are beautiful and pure at best. It is the foundation for true love that most couples who started as teen lovers have built on over time.
A very important tip to note if you want to have a fun date is to put your date's interest first and focus on making the date a memorable one. The date should not be all about you; better, if it is a shared interest.
Having fun and enjoying your teen date experience should be the highlight of your date.
Pin this for later!