Being a teenager would always be the highlight of your fun days. As a teen, you get to have fun while young and go on dates.
First dates are vital because it helps you build connections and get to know each other. On your first date, you want to make a good impression on your date and determine if the relationship will work out.
As a teenager, coming up with date ideas could be difficult. You don't want the conversation on your date to get awkward, and you have a pretty small budget. Well, you don't have to worry about flopping that date! This article will delve into various fun first date ideas for teens.
How Do Teens Go On A Date?
The best way to go on a date as a teenager is to stay within your budget. As a teen, you have little money, and you do not have to break the bank to go on a date. The only way to go on a date is to get creative with your date ideas. Do not go to the usual fancy expensive restaurant; instead, you could try a local restaurant in your area.
What To Do On Your First Date As A Teenager?
As a teenager, there are many activities suited for a first date. The first date aims to get to know each other. So it's essential to go on dates that align with this.
Activities ranging from playing sports games, going for a walk, ice skating, and going for a candlelight dinner are suitable activities for first date ideas for teens.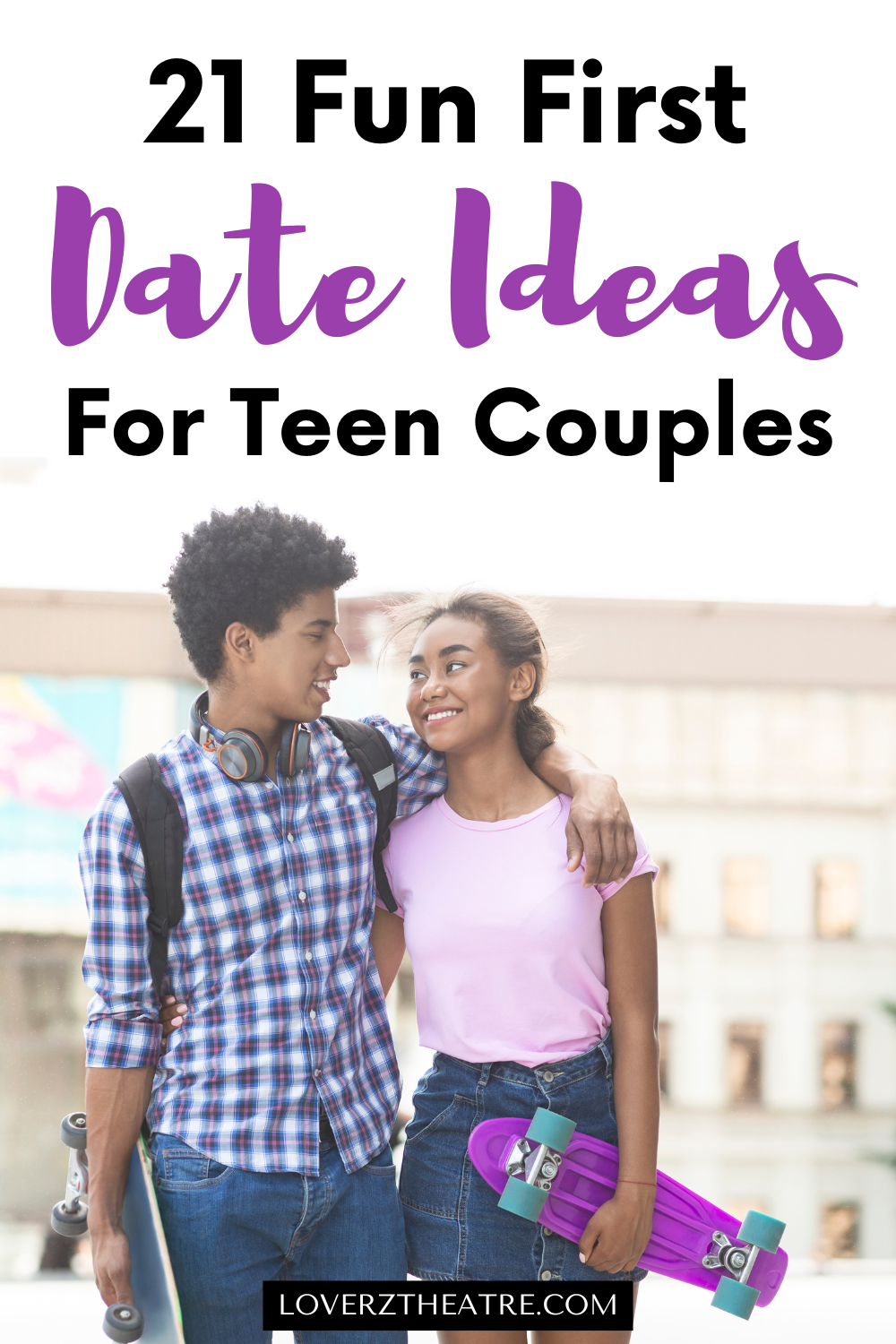 Best First Date Ideas For Teens
All first dates come with their required dose of awkwardness. One way to avoid this awkwardness is by engaging in physical activity. This would allow you to expend the energy that would have been spent feeling tense. Communication is the key, do ensure to inform your date about your plans. Offer some date activities and let them decide what they want.
These are the best first date ideas for teens to get to know each other.
1. Sport Games
Do you both love sports or a particular team? Watching a live sports game is one of the unique first date ideas for teens, and sports events offer a great bonding experience with your date.
Although, be careful not to get too lost in the game and forget you are on a date. Ensure to engage in conversation in between games with your partner. The date is about spending time with the other person, not the team that wins. Your first date does not have to be perfect, and you need to let loose and have fun with your partner.
2. Play Board Games
Playing board games is one of the best teenage first date ideas. Although inviting your date home is not advised, you can always play the board game in the park or a cafe.
You can challenge each other to a game of Monopoly, Scrabble, or any other board game, and it would work wonders for your bond. Playing board games with your date is delightful, making the moment happier.
3. Go For A Walk
You may be unable to drive as a teenager, so the best way is to go for a walk. It's a great way to find things in your area or go to the park and get the conversation going.
You won't be forced to sit across each other and make eye contact which might put pressure on you. Don't forget to take pictures and share them as souvenirs.
4. Thrifting
One of the best first date ideas for teens is to go thrifting. Thrifting is less expensive than a mall. There are so many goods to find in a thrift shop. You are sure to get something you would both like. You can try out items you would never have thought you would like.
The great thing about a thrift shop is that you would never leave empty-handed. You don't have to look through just clothes; you can look through other things. It would be best if you also got something to make your date memorable. It could be a cloth, a board game, or anything special.
5. Beach
Grab those towels and head down to the beach! The beach would put you at ease and instantly create a fun atmosphere.
Lying on the beach blanket in whatever casual clothing you are comfortable in, munching on some snacks is a perfect way to bring you closer, and it creates room for conversation. During the day, you can play volleyball, and after sunset, you can take a stroll.
6. Amusement Park
Heading out to have fun in the amusement park is one fun first date ideas for teens. You can show off your inner child at the amusement park. Although, It's essential to let your date know where the date will be happening. It won't be unfortunate if one of you is scared of the rides and the other is forced to ride alone.
7. Go To A Concert
Most teenagers enjoy music festivals and concerts, so this is an excellent date idea. Concerts are great for a date idea to indulge your date, especially if your date is a fan of live music. Although this may cost you a bit of money, it is guaranteed you would have fun with your date.
8. Picnic
This is the best first date idea for teens. You do not have to book a reservation, and it's casual and pretty cheap. You can also combine any other date idea with a picnic. You can easily order or pack up food from home.
You can set up the picnic blanket in the park or any other place with beautiful scenery. You have a favorite hiking spot; you can set up your picnic blanket there.
9. Go On A Coffee Date
A coffee date is an excellent date idea. You can check out a local coffee shop in your area and hang out with your date.
It's not hard to find a shop that serves hot coffee with some snacks in your locality. You can also have your future dates there if you feel the aesthetic is beautiful.
10. Go To An Arcade
Going to the arcade is an excellent teenage first date ideas. No one is ever too old to play games. Go to an arcade and have fun. This is a great way to show your date that you're goofy. Play some games and show your date an exciting experience they have never had before.
Romantic First Date Ideas For Teens
These romantic first-date ideas for teens are perfect for a romantic date. Remember that the most straightforward ideas may be the best ones yet.
1. Candle Light Dinner
A candlelight dinner is one of the romantic first date ideas for teens that gives you and your date the avenue to discuss while enjoying good food. A restaurant date is advised for a first date, while you could plan a candlelight dinner at home on subsequent dates.
2. Watch The Sunset /Sunrise
There is nothing more romantic than watching the sunrise with your date. The best way to enjoy this date activity is to set your date in a place with beautiful scenery. You should make the most of your date, and you could pack a light picnic and bring a camera to capture the magic.
3. Movie Date
A movie date is one of the perfect romantic first date ideas for teens. It's fun, and you get to relax and enjoy yourself. Watching an exciting movie is a great way to ease the tension, and it gives you both something to talk about. After the movies, you can grab a bite.
4. Ferry Riding
This is a cheap date idea, especially if you live close to a water body. A ferry ride may be an unusual date idea because you are left with nothing to talk about. But that's not true. You get to sightsee and all sorts. You don't have to overthink; you have to relax and enjoy the scenery. It's a romantic first date ideas for teens.
5. Bike Riding
Bike riding is one great first date ideas for teens which allows you to enjoy nature. You can rent a bike if you don't own one, and it would be best to choose a trail best suited for bike riding. You can go riding with your date on the outskirts of town, which has a lovely landscape.
You can pack a light snack with lots of water and have a picnic in any best-suited area. Although, you would need to plan ahead of the date.
6. Try Each Other's Hobbies
These first date ideas for teenagers involve trying each other's hobbies. This can be as simple as reading novels, bowling, or baking. You can ask your date what they do for fun or what they would like to try. You get to have fun and see what your date is interested in.
Fun First Date Ideas For Teens
These fun first date ideas for teens allow you to discuss, have a fun experience, and leave your date with a positive memory.
1. Grab Ice Cream Together
Ice cream is always a good date idea, and it's so much cheaper than grabbing dinner but just as satisfying.
You can grab ice cream together on a first date and then on subsequent dates. You can invite each other over to make ice cream sundaes. You can spend time together creating your own ice cream sundae bar with all the toppings of your wish.
2. Bowling
A bowling alley is one of the perfect places for fun first date ideas for teens.
The bowling alley provides the environment to start a conversation. You don't have to worry about sitting correctly at a fancy table. You can indulge in a friendly competition and celebrate your win later. It also provides an insight into who your partner is; if he is competitive or has more of the layback.
3. Have A Study Date
This is a fun first date ideas for teens that don't cost you anything, and it's impressive as it indulges you in reading. If you and your partner love reading books, a book store may be the place for you.
Study dates are a fun first date idea, and you could also get school work done. Study dates are great for couples who enjoy reading and are busy with school to spend quality time.
4. Go Ice-Skating
You can check out the local ice skating rink. You can rent skates for pretty cheap and hop on the ice for free. If you are scared of falling, your date will be there to hold you. If you both are beginner skaters, you can support each other as you learn to skate.
5. Go To The Museum
A museum is an excellent place for fun first date ideas for teens. Besides, you get to have fun with your date for a nominal fee.
It's a chance for you to show you are knowledgeable if you are a lover of art. If not, you could check out the available skills and learn more from Google. Checking out skills is a great way to bond with your date. There is never a shortage of things to talk about in the museum.
Final Thoughts On First Date Ideas For Teens
The best first date ideas for teens are those dates that keep you and your date interested and allow you to get closer. Your first date would determine if that relationship would lead to a long-lasting love story or a story to tell your friends.
When planning a date, you should remember that creativity counts, not the money spent. You can schedule a fun outing without spending a lot of money and still make a memorable date.
There are a lot of options for a pocket-friendly date. These first date ideas for teens would give you some ideas to make the experience unforgettable.
Pin this for later!