A beautiful garden is a reflection of the intentionality of the gardener, likewise, a beautiful marriage is a reflection of the qualities of the couple.
Marriage is a variable which means it can either fail or succeed. However, this is a variable that is dependent on some other variables so it's a truism that if other variables are positive, there are higher chances of the marriage succeeding.
These positive variables which can also be called qualities are resident with the person you want to marry. This is why you need to pick out a partner with the right qualities if you want your marriage to succeed.
This is the reason why I have written out these important qualities of a good wife to help you see what is important.
What Does It Mean To Be A Good Wife?
What it means to be a good wife is that you complete your spouse in every way, you meet your spouse's needs, you are happy with your spouse, and you are a better lover.
What Are The Top 5 Things Men Look For In A Wife?
These things men look for in a wife are qualities you must cultivate as a lady because they determine the quality of your marital life.
1. Respectful
A respectful woman is someone you want to be.
By default, disrespectful people are a huge turn-off. This is a character trait that society frowns against. You don't want to be the kind of spouse that your husband's friends, colleagues, and family do not want to be around with because you are disrespectful to them.
So being a respectful wife is one of the personality traits men look for in a wife.
2. Kind
You need to learn to be a kind woman. It is a trait that can be cultivated if you are intentional about it.
A kind woman is someone your husband will need in his space when the going gets tough. Kind people make the world go round and if you are going to have a happy marriage you should be a kind partner because the beauty of kindness is that it is reciprocated, how much more being kind to a man who loves and appreciates you.
3. Thoughtful
Thoughtful partners are everything and more. You don't have to ask before they give neither do you have to say what is wrong before they can read you. Being thoughtful is one of the qualities you should imbibe as a good woman because this is what matters most in marriage.
The romance and the sparks will probably die out but what keeps the marriage running is the thoughtfulness of both partners towards each other.
4. Ambitious
Ambitious people have a way of inspiring us and making us want to do better for ourselves. This is someone you need to be for your husband because most times, he might get tired of the race but with you in his space, he will find the strength to forge on.
Ambitious women are wonderful to be around because they are not like Cinderella waiting for a man to come and save them, they do the saving themselves and create that world they desire. Be that woman that any man who comes into your life will marvel at the quality of life that you lead and will want to be with you.
5. Supportive
The best partners are those who support you in your dreams. You need to support your man and help him become a better version of himself. If you don't support him, who else will support him?
Supporting him and pushing him to be better is one of the things that he will appreciate and love because this is one of the things men want the most in a wife.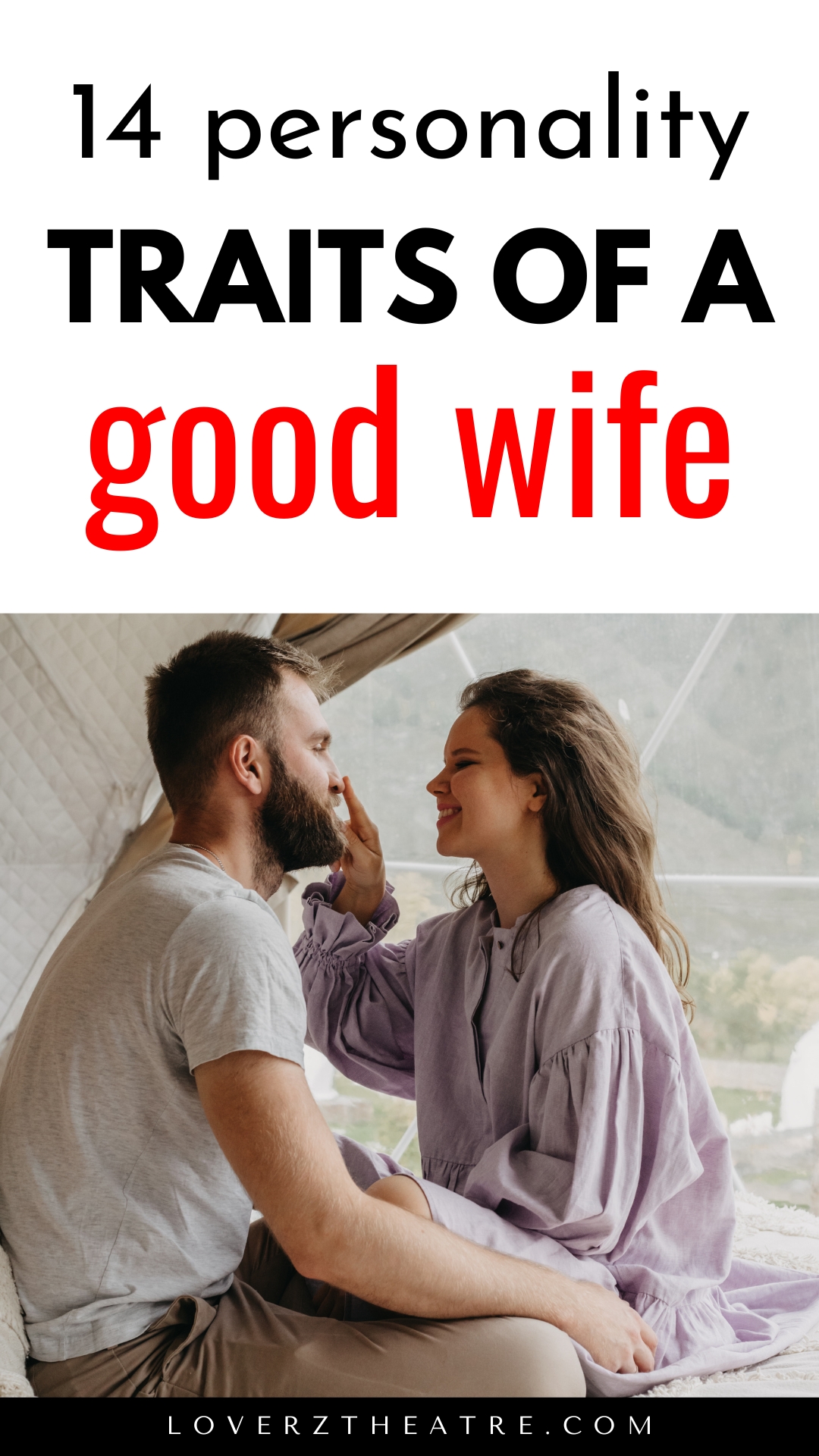 14 Best Qualities Of A Good Wife
These best qualities of a good wife are what you need to be a better lover and be an amazing wife who will rock her husband's word.
1. She Is Respectful
Being respectful is very important because we live in a society where everyone is in contact with each other, so society demands a basic level of social etiquette and one of them is respect.
One of the qualities of a good wife is that you are respectful. If you are disrespectful, you will turn people off and close doors to opportunities for your husband. Being a disrespectful wife gives you and your husband a bad image, so learn how to respect your husband.
2. She Gives Him Space
One of the traits of a good wife is that they give their husband space.
It sounds romantic to say you can't live without your spouse but when you don't give your husband space to breathe, it becomes a problem because he will want to get a break.
You must give your husband space because when you do this you give him the chance to miss you.
3. Express Your Love
One of the characteristics of a good wife is expressing your love. You must express your love because no one wants to marry a woman who is closed off and is not expressive.
It's bad enough that most men are not really expressive, so just imagine he's with a woman who is just like him. One of the ways that you show your best qualities as a wife is that you express your love in words, in actions, and acts of service.
There are so many ways that you can express your love and this will get him to appreciate you better.
4. Be Intentional
One of the qualities of a good wife is being intentional.
Intentional women are thoughtful people who make it a duty to understand their husbands, and fully immerse themselves in the experience and realities of their husbands. This way, they become able to play the role of a best friend and wife at the same time. Being intentional shows in your actions, your words, and how you relate with your husband.
You must be intentional because lack of intentionality would cause a lot of friction in your relationship.
Top Qualities Of A Good Wife
5. Be Self-Confident
Self-confidence is one of the top qualities of a good wife because if you're not confident, you would always doubt the words of your husband and this is something that men do not like to see in their wives.
If he tells you he loves you and you are beautiful and you don't even believe that you are beautiful or that you deserve to be loved, it's only a matter of time before he gets tired of reassuring you.
So one of the ways that you make yourself a good wife is to be confident, this is one of the ways that you get him to fall more in love with you.
6. Be Thoughtful Of Him
One of the best qualities of a good wife is being thoughtful. When you are thoughtful of him, you think about him a lot, you anticipate his needs and his problems and this helps you to be there for him in beautiful ways.
Everyone wants to be around somebody who thinks about them and makes them a priority. So, if you are thoughtful, it's a good quality to have as a wife because another word for being thoughtful is being caring and this is something that your man would appreciate.
7. Support And Encourage Him
Honestly, life can get tiring and frustrating. Sometimes, he would need a shoulder to cry on and who else should be there if not his wife?
One of the qualities of a good wife is supporting and encouraging your husband when it's hard and when it's easy. No matter the situation, just being there for him is one of the qualities a good wife must have.
Lacking words to support him, check out this piece on encouraging words to get him back on his feet.
8. Be Kind To Him
Being kind is choosing to look at life from the perspective of your husband which makes you understand his actions and that makes you accept him for who he is and this consequently makes you a better lover.
One of the qualities of an ideal wife is that you are kind to your husband and this can manifest in so many ways; it can manifest in your words, actions, and little things like running errands for him and asking him about his day.
Traits Of A Good Wife
9. Communicate Properly
Communication is important. One of the qualities of a good wife is communication because without communication there is no marriage. The best of marriages have the best channels of communication.
It's very important that as a good wife, you communicate properly with your husband and do not avoid issues. This way, you have a better understanding of yourself, your partner, and your marriage.
10. Show Interest In His Life
Showing interest in your husband's life is one of the qualities of a good wife material. It might look like your husband does not require attention but the truth is, your husband secretly wants your attention; it's one of the things men secretly want in bed.
So, if he is not getting the attention from you, he will fall prey to people who are ready to give him that attention at the price of your marriage. Show interest in his life, vision, dreams, and hobbies.
11. Be His Closest Friend
One of the qualities of a good wife is that you are the closest friend to your husband.
Naturally, when he has a problem or is happy or when he needs to tell somebody something, you should be the first person to come to his mind. This is what it means to be someone's closest friend, so one of the vital qualities of a good wife is that you can know everything that is going on in his life and he feels safe enough to discuss them with you.
Characteristics Of A Good Wife
12. Be Happy For Yourself
One of the qualities of a good wife is that you choose to be happy for yourself. This means you don't depend on your husband for happiness. When you depend on your husband for happiness, you come off as being obsessive and clingy and you will most likely suffocate him. This can make your love fizzle out quickly.
So one of the things that you need to do is to be happy for yourself, do things that make you happy, and engage in activities that would keep you occupied. This in a way boosts your self-esteem and helps you lead a healthier marriage.
13. Be Honest
One of the important qualities of a good wife is honesty with your husband. As much as it's true that the truth is bitter. This is one of your job descriptions as a wife; to deliver this bitter pill to your husband when needed.
When you tell your husband the truth and call him out when he is doing something wrong, he will find it easier to trust you. When he knows that you are always there to keep him in check, this creates a relationship where he can always trust and listen to you.
14. Tolerate Him
One of the top qualities of a good wife is that you tolerate your husband. It is not ideal to tolerate every bad habit of his but it is wise that you pick your battles wisely.
There are some flaws that might not necessarily affect the quality of your marriage or relationship or do not necessarily affect you but there are some that he needs to work on while tolerating the rest. You must learn tolerance because no human is perfect.
Final Take On The Best Qualities Of A Good Wife
These qualities that men look for in a wife are what you need to ensure that you are a better partner. These qualities will help you strengthen your marriage, spice up your marriage, and help you have the most beautiful experiences and long-lasting marriage that is bound to beat that of Bonnie and Clyde.
Pin this for later!