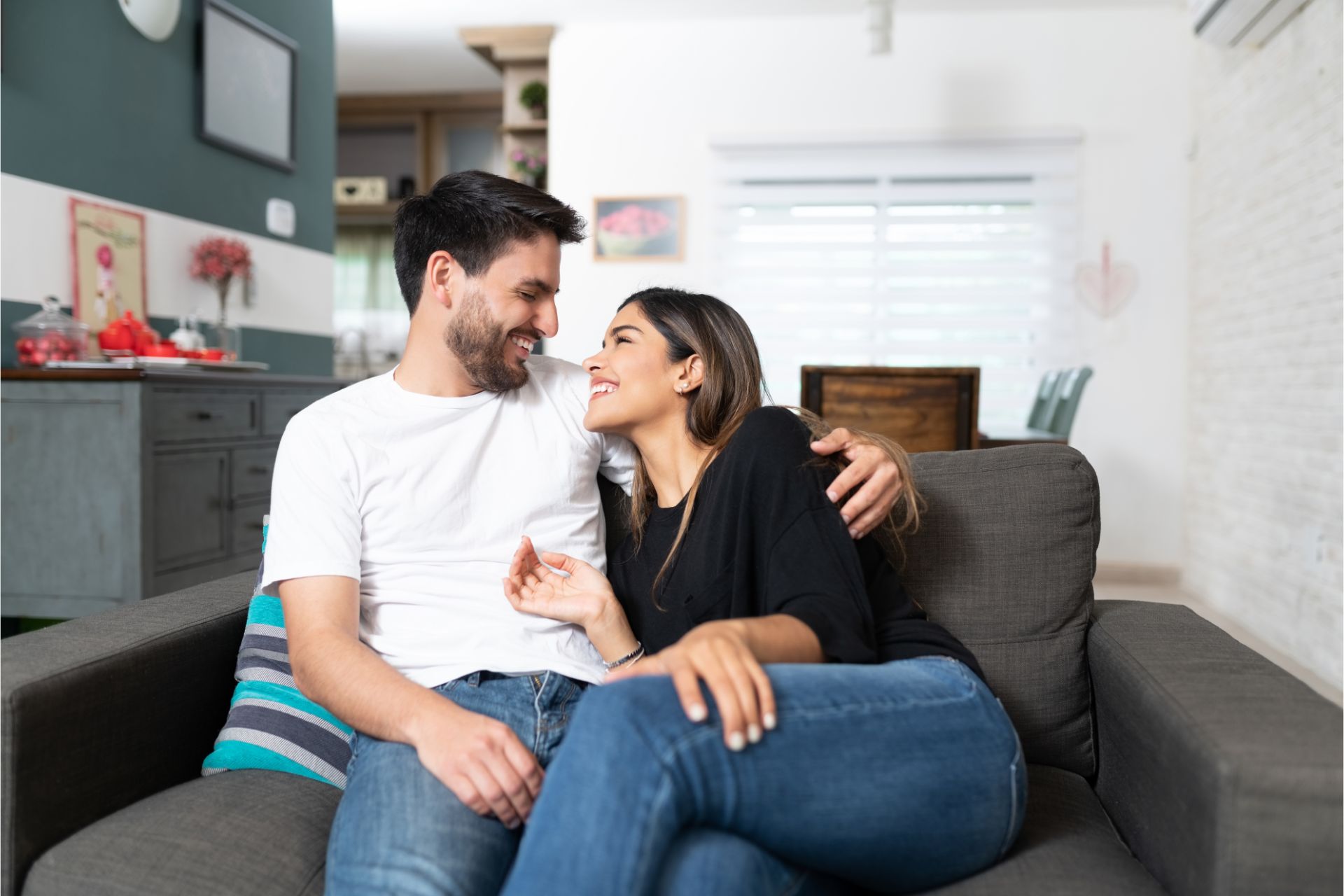 Dating doesn't always mean fancy dinners or expensive getaways. The goal of dating is to strengthen your bond with your partner and get to know them on a deeper level; even in your home, you can do this.
Indoor date ideas for couples helps create special bonding moments with you and your partner at home. Plus, it's cheap!
Check out these free indoor date ideas for lovebirds; they'll TOTALLY blow your mind!
Indoor Date Ideas For Couples
If you're looking for the best indoor date ideas, cheap indoor date ideas, and fun indoor activities for couples, read on as we explore the best at-home date ideas for couples!
Cheap Indoor Date Ideas
You don't need to spend a lot to have fun with your significant other. With these cheap indoor date ideas, you can have a nice time together on a budget. All you need is a little creativity and proper preparation.
1. Watch A New Netflix Series
You don't need to spend a dime to Netflix and chill with your partner. All you need is a Netflix subscription, popcorn, and a nice spot to cuddle.
Prepare in advance by setting the atmosphere right. You can:
Instead of turning on the lights, make use of light candles.
Get nice and fluffy pillows for extra comfort.
Prepare your favorite snacks.
Choose a romcom or a movie you've both been longing to see. While watching your movie, you can cuddle up and have some special moments with your partner.
2. Learn A Tiktok Challenge
TikTok is a popular social media platform where people make fun videos, remix songs, and do fun things. Why not hop on it? Check out the trending TikTok challenges and recreate them together.
3. Have A Dance Party
Indoor parties are fun indoor date ideas no one should miss out on! It is okay if you are not a good dancer; the point is to unwind and have fun.
4. Go For A Massage
Massages are also a great way to bond and relieve each other of stress. Nothing beats the warm feeling of your significant other caressing your body! Give each other back rubs or full-body massages. Who knows where they can take you…
5. Read A Book Together And Review It
This tops my list of indoor date ideas to try, especially for bookworms!
You can pick a random book or a book you both love to read. You can review the book chapter by chapter and discuss the following:
Your favorite characters.
Characters you'd love to slap hard.
Your favorite sentences or paragraphs.
New words or phrases you've picked up.
What you think will happen in the next chapter (you can make bets on this).
Parts of the plot you'd change if you had your way.
Reading books together as a couple will help you bond deeply and get smarter.
6. Try Out A New DIYs Project
DIY involves creating or repairing things without prior knowledge or professional help. There are various DIYs you can do with your partner, like:
Repaint your bedroom.
Make paper flowers.
Redecorate your living room.
Paint the front door.
Make a bonsai tree.
Frame a family picture.
Make a shelf.
Make a vase.
Make compost.
Fix a light switch.
Install vinyl flooring.
Tie-dye.
Fix a kitchen faucet.
Fabric art from old clothes.
DIYs are fun indoor date ideas no couple should ever miss out on! You'd have a lot of fun exerting yourself while figuring out the DIY you choose.
7. Take Personality Tests Together
Taking personality tests together is another indoor date ideas that foster intimacy between lovers. A personality test will help you identify your strengths and weaknesses, and that'll help you to understand each other better.
Cute Indoor Date Ideas
If you're looking for cute indoor date ideas to try out with your partner, here are some things you can do together.
8. Create A Couple's Bucket List
A couple's bucket list is simply a list of things you plan to do with your significant other. It's one of the indoor date ideas I endorse because it shows that you're ready for commitment and a solid, long-term relationship — that's why you're making future plans! Here's how to create a bucket list:
Get a journal strictly for your bucket list.
Write down things you'd like to do together.
Write down places you wish to go together.
Add more to the list as you wish.
When you do any of the activities on the list, cross them out neatly.
Anything can be on your bucket list; there are no restrictions, so be free. Even if you wish to kiss your boyfriend in the snow in Paris or wear your girlfriend's clothes when you're going on a date, they're all good plans. Please include them in your bucket list.
9. Play Hide And Seek
Looking for cute indoor date ideas? Try hide and seek! It's a fun game that'll bring out your inner child and help you bond deeply as a couple. You can make this more fun by preparing in advance.
Plan secret hideouts around the house.
Set a timer for the game. Say, 30 minutes per session.
Choose who should be the Seeker and who should hide.
Drop clues to your hideout (as riddles or puzzles).
Attach a reward to the win. e.g., the winner gets five french kisses and a full body massage; the loser gets to make dinner and take out the trash.
10. Have An Indoor Photo/Video Shoot
No indoor date ideas are as cute as creating sweet memories with each other. Take cute photos together, make goofy videos, and film each other unawares. These are the souvenirs to show your grandchildren when you're old and grey.
11. Go Through Old Photos Of Each Other
Another way to add fragrance to your indoor dates is to go down memory lane together. Going through your old photos is a good avenue to get better acquainted with your significant other.
Romantic Indoor Date Ideas
Romance is important to keep any relationship afloat. You have to connect emotionally with your partner and deepen your bond constantly. Have you run out of romantic indoor date ideas? I've got you!
12. Have Deep Conversations
Tête-a-têtes are the ultimate indoor date ideas! Deep conversations with your significant other helps to build effective communication and trust. You get to ask all the "right" questions and have the "hard" discussions.
Check out these conversation starters for couples that'll build a strong and healthy relationship between you both.
13. Play "Would You Rather?"
Would-you-rather questions for couples is a fun game that involves asking each other questions that require choosing one thing over another. It's another indoor date idea that fosters communication, as the game can help you understand how your partner's mind works. Here are some would-you-rather questions for couples:
Would you rather be loved or understood?
Would you rather have more money or more time?
Would you rather be able to speak all the languages in the world or be able to communicate with animals?
Would you rather wear the same underwear for two weeks or not have your bath for a month?
If you caught your man cheating, would you rather walk away or attack the woman he's with?
Would you rather read a book or watch a movie?
Would you rather have a white-collar job and earn $1000 monthly or sweep the streets and earn $3000 monthly?
If your wife and child were drowning in a pool and you could only save one person, would you rather save your child or your wife?
Would you rather be wealthy or famous?
14. Have A Double Date With Friends
It's not a bad idea to have company, too. In fact, chilling with other couples is one of the best indoor date ideas. I mean, the more, the merrier! Invite your friends over for a double date to have fun and get better acquainted with one another. You can split into groups to play games and it'll be so much fun!
15. Recreate Your First Date
Searching for romantic indoor date ideas for couples? Recreate your first date! How did you meet your partner? What was your first date like? Could you do it again?
Dress exactly how you did on your first date and go to the same place you went to. Take the same seats and order the same foods, too. What did you do together? Was there something you said to each other? What songs did you play? Rinse and repeat!
Recreating your old memories is a lot of fun. It might never be as perfect as the first time, but it's still beautiful.
16. Write Each Other Love Letters
Never pass on the opportunity to express your affection for your significant other. Write sweet, heartfelt love letters to each other. Sweet words from people you care about will stay in your heart for a long time, so give your lover something to remember forever.
Final Words On Indoor Date Ideas For Couples
I hope you loved the indoor date ideas and found something nice to try with your lover. How about you try them out and tell me how it goes? I can't wait to hear from you in the comment section!
Pin this for later!