Lovemaking is one of the most significant factors that make long-term relationships succeed. It is full of excitement, anticipation, and then a volcanic release that is indescribable.
You can have great lovemaking experiences in your 40s and beyond if the right effort is made. But sometimes, experienced lovers also make mistakes couples make after intimacy that turn an otherwise great experience sour.
Thankfully today's post will show you some horrible mistakes couples make after lovemaking. Make sure to avoid these mistakes couples make after lovemaking.
8 Surprising Mistakes Couples Make After Lovemaking
1. Don't Hurry Into The Bathroom
You may be seriously pressed to use the bathroom after the whole experience, but you can hold it for a bit longer to snuggle with your partner. Unless you genuinely have something very urgent to attend to.
Getting off instantly after lovemaking is one of the most everyday mistakes couples make after making out. It is best to spend a few minutes in each other's arms to soak in the moment and drink in the pleasure of intimacy.
You can have a hot shower together after the beautiful act, which will deepen your bond.
2. Not Complimenting Your Spouse For A Great Time
Most couples fail to appreciate their spouse after having a great time making out, and this is one of the many mistakes couples make after lovemaking.
Some fail at this probably because of shyness, and others may not know the right words to say, and while some few ones may simply don't want their partners swelling up with pride. Complimenting your partner will do your relationship a world of good but also improve the quality of your love life.
If you are embarrassed and have no ideas of what to say, you can use any of the ones highlighted below:
You know how to make me happy.
That was out of this world.
I enjoyed it immensely.
You were awesome today, sweetheart.
I will love a repeat later tonight.
That was a steamy session.
You were wonderful.
That was good, I loved it.
I won't forget this in a hurry.
I had such a fantastic time I didn't want it to end.
I love you, that was special.
Let's do that again soon.
These words would send a thrill of excitement to your partner, turn on the passion in your relationship, and make you both anticipate more intimacy.
3. Not Saying What Is In Your Mind
This is another mistake couples make after lovemaking. Most women do not want to hurt their partners' ego and feelings, especially if they struggle with insecurities, so they keep mute, preferring not to speak up and let him know that his performance is not satisfactory enough.
Throwing your partner in a state of uncertainty is another mistakes after lovemaking. Some women even go as far as pretending that they enjoyed the experience when they didn't. And those who do that are doing their relationship more harm than good.
Telling your partner about your sensual dissatisfaction may be something you would not initially want to do as it requires a lot of sensitivity. Still, you can't keep quiet forever and hope that things will suddenly change without you saying anything.
Your manner of approach will determine your partner's response. If broach the subject lovingly, without being judgmental, and humorously, he will take it in his stride and work towards a better performance.
4. Not Cuddling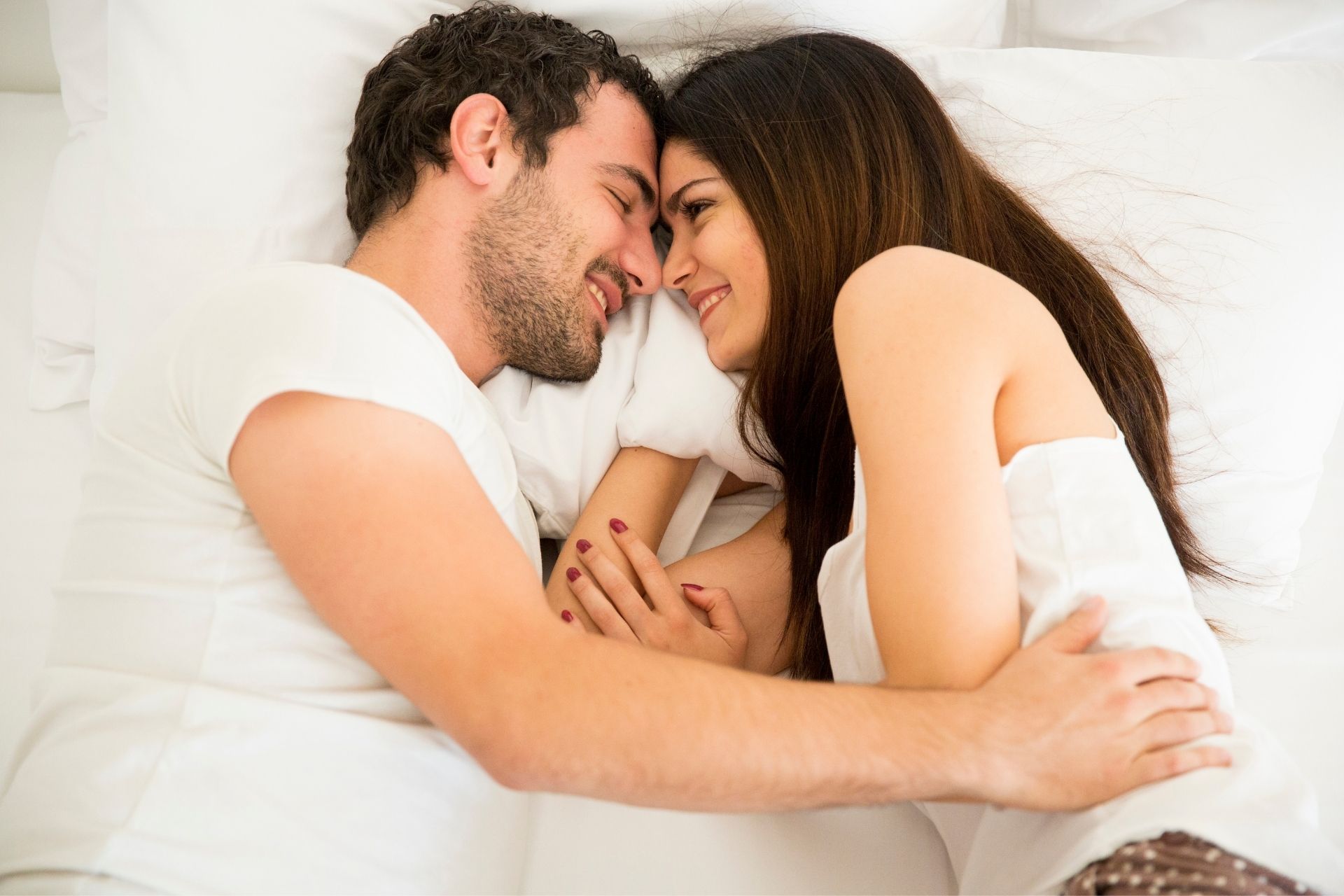 Not cuddling is another mistakes couples make after making love. You should not just get off and leave your spouse after sharing a fantastic time.
Cuddling with your spouse for a few moments afterward is rewarding and an experience you must not throw away. It's such an amazing way to bond with your partner.
Couples who invest more of their time showing love and affection after making out are more fulfilled with their love lives, which also positively impacts their relationship.
Couples who spend more time cuddling, talking sweet nothings, kissing, and caressing usually are more fulfilled in their relationships. It is known that women's relationship happiness has a lot to do with more cuddling and snuggling than men's.
Research has also proved that giving and receiving affection after lovemaking indirectly impacts men's happiness— increases their sensual satisfaction and relationship fulfillment.
5. Picking Up Your Phone Immediately
Picking up your phone immediately after lovemaking sounds tacky, cold, and unfeeling. Unless you have reasons for this that your partner understands, please don't do it.
Are you guilty of these mistakes couples make after making out? It is not too late to work on them and improve your marriage. Some would even choose that moment to call a friend or colleague.
Lovemaking time is a sacred time, requiring your attention 100%. That is not the moment to keep your eyes and ears stuck on your mobile gadget, waiting for a message. It makes your partner feel unimportant, which is a turn-off for guys.
6. Falling Asleep Immediately Afterwards
Another mistakes couples make after lovemaking. Falling asleep immediately after lovemaking does not only lacks tactfulness but is regarded as the height of rudeness. This behavior is similar to belching before guests in a restaurant or yawning in the middle of a crucial life-threatening conversation.
Yes, it is proven that the release of hormones makes you sleepy, but prolactin and oxytocin are the real curses of drowsiness here.
Understandably, you might be tired after using all of your energy to please your partner, sleeping right afterwards sound a little selfish and can cause a shift on how your partner perceives you.
Most couples experience this situation where either one of the partners would fall asleep right after making out. If you fall asleep together, that should be okay, but leaving your partner staring into the ceiling while you have gone off is a big turn-off we should guide against.
7. Leaving For Work Or Study Immediately
What do couples think of during lovemaking? This is a million-dollar question we should all ask ourselves. We can have answers based on what couples do immediately after the special moment.
Those who reach out to their phones and those who go to the work or study-room immediately gave us their answers, which is one of many mistakes couples make after lovemaking.
Going straight to the study room, leaving your partner alone, is not thoughtful and would lead to disaster in your relationship. Even if you have a project and a deadline to meet, you can reschedule and find a way to meet up without affecting the special moment with your partner.
8. Bringing Kids To Sleep Along
Getting kids involved or exposing them to your marital intimacy could be among the mistakes couples make after lovemaking, depending on how the matter is handled.
As much as you would like to keep your parenting and love life separated, there will be many times when they will intertwine. Mothers are known to bring kids to sleep with them on the same bed, and this may be a turn off to your partner.
For couples with kids, you must find ways to prevent them from interrupting your special moments together. Mothers are pretty attached to their kids, but bringing them to sleep between you and your man after lovemaking is wrong. You will discourage your partner, especially if he's had some romantic tricks planned for the night.
Final Thoughts: Mistakes Couples Make After Lovemaking
Are you guilty of these terrible mistakes couples make after lovemaking? Do you find yourself in the act unintentionally? Thankfully, this post has shown you all the tips to avoid making these mistakes every day.
In the comment section, I'd like to know which of these mistakes couples make after lovemaking that has ruined your intimate moments with your partner.
Pin this for later!