One of the oldest rituals in the world today that cuts across every generation and background is marriage. Primarily, it ensures the longevity of mankind so it's an important aspect of our lives.
Marriage celebrations have been developed over the years to be what it is today by introducing different things to create pleasant memories. One of the things that have been introduced is the part when partners say sweet words of desire and commitment to express themselves.
A ceremony isn't complete without vows which express intention and desire between two partners. It's the responsibility of each partner to not just say endearing words and commitment, but to live up to the words that were said.
Vows can take different forms depending on how a partner chooses. It doesn't have to be serious, or long, or short, as long as the heartfelt message is expressed when read.
Men can be flexible in their approach to compose vows that can make them cry, romantic or funny. In other words, there can be romantic wedding vows, funny wedding vows, short wedding vows e.t.c
Here are some examples of the different styles of wedding vows that you can use to express yourself and make him feel loved.
Romantic Wedding Vows For Him
1. Look at the sky, just as you see the stars that do not move or fade away, so also, will you remain in your heart forever.
2. I vow to help you love life, to always hold you with tenderness and to have the patience that love demands, to speak when words are needed and to share the silence when they are not, to agree to disagree on red velvet cake, and to live within the warmth of your heart and always call it home. (Source)
3. "I love you. I am who I am because of you. You are every reason, every hope, every dream I've ever had, and no matter what happens to us in the future, every day we are together is the greatest day of my life." (Source)
4. "Love is patient, love is kind. It does not envy, it does not boast, it is not proud. It does not dishonour others, it is not self-seeking, it is not easily angered, it keeps no record of wrongs. Love does not delight in evil but rejoices with the truth. It always protects, always trusts, always hope, always perseveres. Love never fails." (Source)
5. Love is not blind love sees all. I love all of you – your faults and flaws cast a beautiful light – like the flaws of a precious jewel. You are my husband, you are my treasure and I love you for all time.
6. Today is the start of a new journey in our lives and we have roles to play. You are my sun, moon and all of my stars to guide me through the darkest of days and nights. We are finally going home together.
Short Wedding Vows For Him
These are likely ideas of such vows:
7. Take my hands and we will be on this journey together to the end of the earth.
8. Take this ring. This moment marks the end of my dream that I will marry you.
9. With this ring, I give you my heart. From this day forward, you shall not work alone. May my arms be your home.
10. I felt that I was so secure till I met you and this is the moment when I allow you to steal my name for security.
11. If there is anything I won't do in this world, it won't be to make it up to you as I promise on this day.
12. You are my sunshine. Lead me on!
13. You whispered love into my heart; you kissed life into my soul. I could never love anyone more than you. I am honoured to become your wife. (Source)
14. "I can conquer the world with one hand, as long as you're holding the other." –Unknown
Funny Wedding Vows For Him
15. I vow to love everything that makes you, including snoring and farting.
16. I am so lucky that I fell for your charm, even though it makes me feel like I am helpless.
17. I desire to love you always, pants or no pants.
18. I will love you all the time even during football season.
19. Whatever I do will be insignificant, but if I don't marry you, nobody else will, because you are meant for me, so I must do it.
20. In sickness and in health: I promise to take care of you, even when you're hungover. For richer or for poorer: I promise not to spend all our money online shopping. (Source)
21. "I promise that you will be as important to me as my best drink, as my best food, and as all the best movies I have watched put together."
22. "I promise to find a tactful way to tell our guests we prefer cash over homeware." (Source)
23. Getting married to you is a status I am itchy to attain. Not only will I shame our haters with it, but it will also be a warning to them that love conquers all odds. Ours is a winner. (Source)
24. I don't live a perfect life; neither do you. We will make a lot of messes and could argue like kids. In all of those, know that I'm going nowhere, neither are you. (Source)
Romantic Wedding Vows To Make Him Cry
Below are some of the best romantic wedding vows to make him cry;
25. To be your lover when you need to be loved, your doctor when you are ill, your army when you go to war, your umbrella when life rains down on you, your rock when you get weary, your shield when you need defence, your spirit when you are drained, your pillow when you need to rest, your voice when no one can hear you, your ear when no one will listen, your comfort when you feel pain, your hero when you are under duress, your sunshine when darkness falls, your answer when questions arise, your inspiration to overcome obstacles, your hand to hold when you are frightened, your kiss that wakes me every day, and your "I love you" every night. I am yours… all of me. (Source)
26. "I tell you this as we are joined in the unbreakable team – that is marriage. When you are thirsty, I will offer you water. When you are hungry, I will give you food. When you tire, I will give you the endurance to continue. And when you are joyous, I will give you my voice. All this I pledge to you." (Source)
27. You are mine. My puzzle piece. Even after just meeting you, I felt like I'd known you my whole life, and now I get to know you forever, as your wife and your best friend. I've never laughed so hard, smiled so much, and felt so confident with you by my side. As your wife, I promise to be by your side until I take my last breath. (Source)
28. "Your greatest cheerleader, biggest fan, and partner in crime, I pledge to be. I'll build a great family with you, the home of patience, love, and understanding. I promise you. I grow grey, and old with you, I vow. With love, I'll be with you to overcome what may come always, as I give you my life today." (Source)
More heartfelt wedding vows for him
29. "When you're cold, I'll be there to hold you tight. When you're on the outside and can't get in, I will show you the way. When you're lost and alone and you can't get back again, I will find you darling, and I will bring you home."
30. "I see these vows not as promises but as privileges: I get to laugh with you and cry with you; care for you and share with you. I get to run with you and walk with you; build with you and live with you."
31. "Faithfulness and unending patience, total respect and lightheartedness, active attentiveness and self-improvement I promise. Your triumphs I'll celebrate, and for your failures, I'll love you more." (Source)
Heartfelt Wedding Vows For Him
32. I promise to love you in sickness and in health, in good and in bad is the easiest promise I've ever made because vowing to love you was something I decided when I first met you. (Source)
33. "To be fully seen by somebody, then, and be loved anyhow—this is a human offering that can border on miraculous." (Source)
34. "If I had a flower for every time I thought of you…I could walk through my garden forever." (Source)
35. "Love is like a friendship caught on fire. In the beginning a flame, very pretty, often hot and fierce, but still only light and flickering. As love grows older, our hearts mature and our love becomes as coals, deep-burning and unquenchable." (Source)
36. "The real act of marriage takes place in the heart, not in the ballroom or church or synagogue. It's a choice you make—not just on your wedding day, but over and over again—and that choice is reflected in the way you treat your husband or wife." (Source)
Best Wedding Vows Ever Heard
Below are some of the famous vows that have been famous through generations;
37. "He's more myself than I am. Whatever our souls are made of, his and mine are the same." (Source)
38. "The secret of a happy marriage is finding the right person. You know they're right if you love to be with them all the time." (Source)
39. "You don't marry one person; you marry three: the person you think they are, the person they are, and the person they are going to become as a result of being married to you." (Source)
40. "I love being married. It's so great to find that one special person you want to annoy for the rest of your life." (Source)
41. "I have for the first time found what I can truly love–I have found you. You are my sympathy, my better self, my good angel, I am bound to you with a strong attachment. I think you good, gifted, lovely: a fervent, a solemn passion is conceived in my heart; it leans to you, draws you to my centre and spring of life, wrap my existence about you and, kindling in pure, powerful flame, fuses you and me in one." (Source)
42. I love you. And that's the beginning and end of everything. (Source)
43. "You are the poem I've always wanted to write, and this life is the story I've always wanted to tell."
44. "The minute I heard my first love story I started looking for you, not knowing how blind I was. Lovers don't finally meet somewhere. They're in each other all along."
45. I take you to be my husband. To hold, to cherish and to love on our best days, worst and even ordinary days in between. I promise that I will always keep your heart safe and never take for granted the love that we share. To consider you in all that I do and choose our marriage every single day. I promise to fill your life with laughter and hugs. To show you my devotion with actions and not just words. I promise to be your best friend and biggest fan. And to love you just the way you are.
46. You are the love of my life. You are the missing half that made me whole. And today, I ask you to be my husband, to be my partner, to be my strength for the rest of my life. I promise our life will be filled with laughter and love. And we will share our joy with our family and friends. I will be loyal to you. I will love and adore you. I will help you to achieve your dream and pursue your heart's desire. I will laugh with you. I will strive to bring out the best in you and to always see the best in you, and to always see the best in you. For you, I will be the best possible version of myself every day as your partner.
47. I promise that you will never face a day alone, no matter what is going on or how big we disagree. I will never withhold my love from you. I promise to be by your side whether our tomorrow is easy or hard and that I will walk with you down whatever path life sets before us. I promise to be dependable, honest and supportive. To give you comfort, respect and room to grow and I promise that you will always have shelter in my arms and a home in my heart.
48. I cannot promise never to be angry. I cannot promise always to be kind. You know what you are taking on, my darling it's only at the start that love is blind. And yet, I am still the one that you want to be with and you are the one for me – of that I am sure. You are my closest friend and my favourite person, the lover and the home I have waited for. I cannot promise that I will deserve you from this day on, I hope to pass that test. I love you and I want to make you happy. I promise that I will do my best. (Source)
49. I (wife's name), take you, ( husband's name), To be my husband, my partner in life and my one true love. I will cherish our union and love you more each day than I did the day before. I will trust you and respect you, laugh with you and cry with you, loving you faithfully through good times and bad, regardless of the obstacle we might face together. I give you my hand, heart, and my love, from this day forward for as long as we both shall live.
50. I, (wife's name), take you, (husband's name) to be my friend, my lover, the father of my children and my husband. I will be yours in times of plenty and in times of want, in times of sickness and in times of health, in times of joy and in times of sorrow, in times of failure and in times of triumph. I promise to cherish and respect you, to care and protect you, to comfort and encourage you, and stay with you for all eternity.
51. "I give you my heart, my promise, that I will walk with you, hand in hand, wherever Jesus leads us. I promise to love and protect you until the day that I die. I promise you my deepest love, my fullest devotion, and my tenderest care."
Best Wedding Vows For Him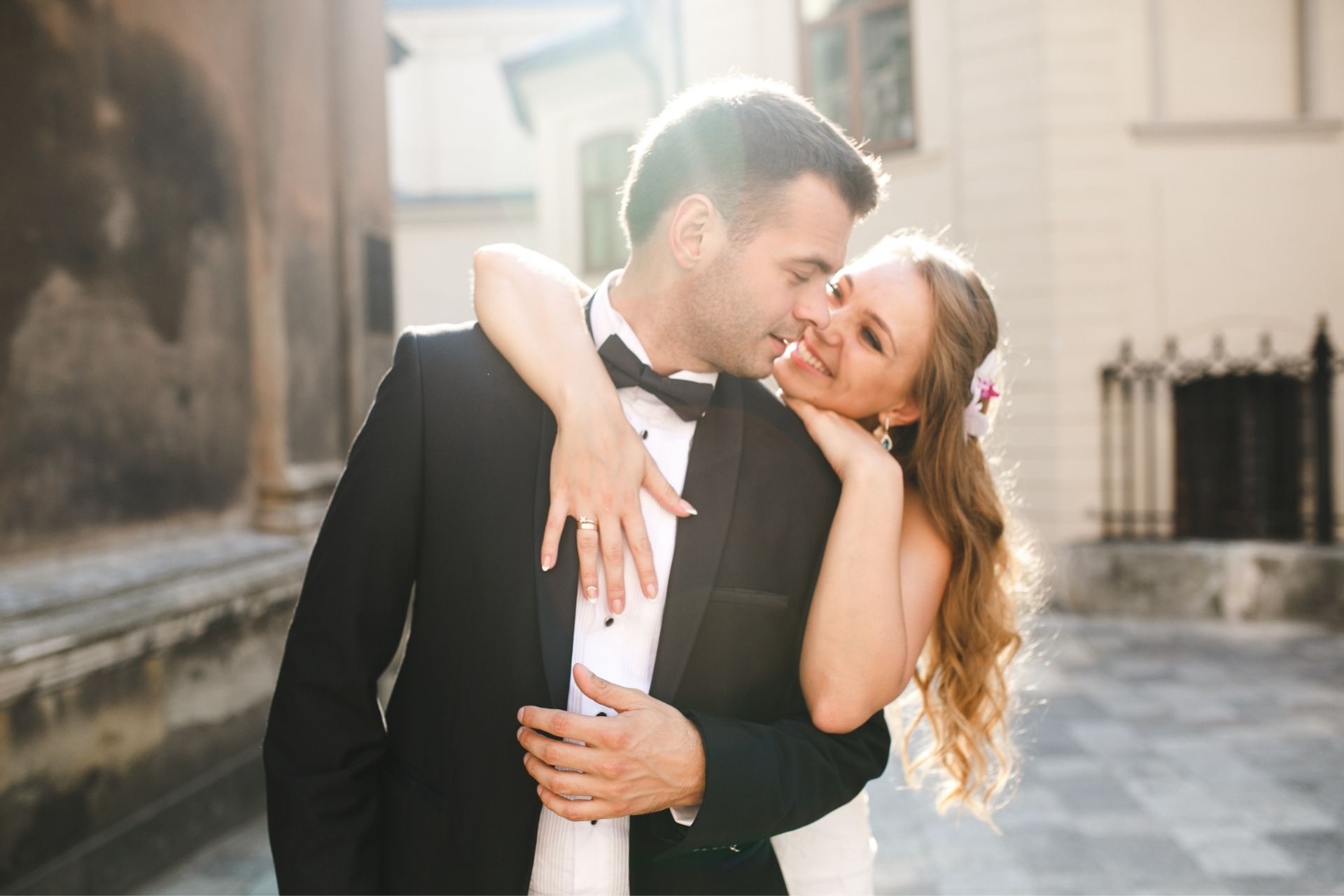 52. "On this day I pledge to be the husband you dreamed of marrying when you were a child. It will be my continued goal to uncover all your dreams for the future and work toward making them a reality that we can both share and enjoy." (Source)
53. In that still and settled place, there is nobody but you. You are where I breathe my oxygen. You are where I see my view, and when the world feels full of noise, my heart knows what to do. It finds that still and settled place and dances there with you.
54. "When you smile I feel a level of accomplishment you wouldn't begin to understand. When you cry, I interpret it as a failure on my behalf. I view your emotions as a gauge of how I am performing as a boyfriend, fiancé, and soon-to-be husband. I promise to continue to watch over you and strive to keep a smile on your face for all the days to come." (Source)
55. My dreams at night are reflections of joyous times we have spent together and adventures that await." (Source)
More wedding vows for him
56. "Today, [name], I join my life to yours, not merely as your wife, but as your friend, your lover, and your confidant. Let me be the shoulder you lean on, the rock on which you rest, the companion of your life. With you, I will walk my path from this day forward." (Source)
57. "You look so beautiful to me today, but know that you always look beautiful to me and will always be this beautiful to me, tomorrow, and the next day and the next. As gorgeous as you are right here and right now, I will only love you more and more each day of our marriage."
58. "Your arms provide me with the warmth I have never felt in my life, the way you put them around my neck and waist and chest; as if telling me "I am here to protect you from all that comes forth" – Unknown
59. I promise to give you the best of myself and not to take you for granted. I promise to keep myself open to you, to show my happiness and to trust you with my pain. I promise to be authentic with you, to be honest even when it's not easy. I promise to grow along with you, to be flexible as we grow individually and as a couple. I promise to be your partner, to take care of you and also depend on you. I promise to help you be your best self, to support you, encourage you and challenge you. I promise to build a strong marriage with you, to provide a serene and loving family for our children. I promise to love you, to be faithful in good times and in bad, completely and forever. (Source)
60. My eyes saw the treasure that you are, ever before I knew you're going to be my husband. Now that this day has come, I promise to honour and cherish your priceless personality, all the days of my life. (Source)
61. The flowers bloom in their season. The waters rise and fall with the demands of the weather condition. I promise you that my love and commitment to you will defy any season, any reason. It is here to stay. (Source)
Final Words On Wedding Vows For Him
Imagine you reading any of these best wedding vows for him. He will be grinning from side to side I bet.
Seems like a pretty long list but come to think of it, I think it's worth it. I'd love to read your favourite wedding vows for him in the comment section.
Pin this for later!