Wedding vows are your intentions expressed through words during a wedding ceremony.
You must take your time to make a memorable experience for your partner on that special day through your words. There is no specific format for vows, but you must use words that your heart reckons with.
I have put together the best heartfelt wedding vows that you can use to inspire your own. Below are samples of simple wedding vows, traditional wedding vows, funny wedding vows, best wedding vows for her that make you cry and wedding vows for her.
Funny Wedding Vows For Her
1. Let's get married my chef, I am starving!
2. I promise to love you all the time even when Korean and Indian movies become more important to me.
3. I vow to work hard on this relationship as if it is my job, but I'd like to request two weeks off this summer. (Source)
4. I vow to comfort you when your team loses and never utter the phrase "it's only a game" (Source)
5. "You want the moon? Just say the word and I'll throw a lasso around it and pull it down. Hey, that's a pretty good idea. I'll give you the moon."
Simple Wedding Vows
6. "You are my best friend, my confidant; marrying you is truly my every desire fulfilled." (Source)
7. "I vow to be a loving and devoted wife, without judgement, without scorn, but always with an open heart and mind." (Source)
8. You are the one I want to give my heart because I know that hearts don't break when it's with you. I vow to be yours and yours only if you say yes to me on this day.
9. The caring woman that you are to me has made you irresistible. I can't turn a blind eye to your presence and impact on my life. You are wrapped around me like my skin and I would need extra protection to my soul, hence, I want you to be that presence all through the days of my life as my wife.
10. I commit to being the husband who would share everything with you, even your sufferings to make you well.
11. I vow to have the patience that love demands, to speak when words are needed and to share in the silence when they are not." (Source)
12. "Give me this moment and I will give you forever." (Source)
Heartfelt Wedding Vows For Her
13. I pledge to remain your companion and friend, I promise to be with you always, to care for you, and to love and cherish you no matter how far apart we may be. I will always show an interest in the things you do and your ideas. I will be with you in your heart and keep you safely in mine. When you are happy, I will be happy with you. When you are sad, I will make you smile. I will encourage you to continue growing as an individual as we work toward our mutual goals. I stand with you as your friend and wife and acknowledge that your choices are valid ones. I promise to give you love, honesty, trust and commitment, and, in general, keep your life interesting as we grow old together. (Source)
14. The best thing that happened to my grown-up life is meeting you. You are amazingly a shining star. In a carefree manner, you struck my life with the brightness of your love. I only ask you today, to remain the lone star in my sky until forever becomes another day. (Source)
15. I take you to be my partner for life, I promise above all else to live in truth with you and to communicate fully and fearlessly, I give you my hand and my heart as a sanctuary of warmth and peace and pledge my love, devotion, faith, and honour as I join my life to yours." (Source)
16. Where there has been cold, you have brought warmth; where there was darkness, you have brought light. Our miracle lies in the path we have chosen together. I enter this marriage with you, knowing that the true magic of love is not to avoid changes but to follow the path together, hand in hand. Let us commit to the miracle of making each day work, together. Whatever lies ahead, good or bad, we will face together. Distance may test us for a time, and time may try us. But if we look at each other first, we will always see a friend. For better or worse, richer or poorer, in sickness and health, in joy and sorrow, to love and to cherish, to be faithful to you alone. (Source)
17. "_____, emptying my heart of all others, I fill it now with you, to love you until the end of my days as my most treasured spouse. I promise that I will love you, hold you, and enjoy you, console you, delight you, astound you when I can, and cherish you dearly." (Source)
18. I vow to fight your battles with you as a team. If you grow weak, I'll be there to fight your battles for you. I'll help you with your responsibilities and make your problems my own to spread the weight a bit more evenly. If you have to carry the weight of the world on your shoulders, I'll be standing shoulder-to-shoulder with you. (Source)
Best Wedding Vows For Her
19. When I found you, I found an all-new universe in your arms. I found love, affection and protection in you. I found possessiveness, madness, passion and insanity in your love. I found recognition, respect and forgiveness. I found life, I found my reason to smile. I found my reason to wake up every morning. I found a new dimension in my life. I found a treasure of love buried under my bones. Finally, as if that wasn't enough. I found myself in you too.
20. Because of you, I laugh, I smile and I dare to dream more than I ever have. Thank You for the miracle of you. You are and always will be the love of my life, my soulmate, my person. (Source)
21. I believe that God sent you into my life to give me something to fight for, to show me there is love in this world, to give me hope and to bring me joy. All the proof in God I need is in you, you are a gift from heaven. (Source)
22. I feel like everything in my life has led me to you. My choices, my heartbreaks, my regrets and everything. And when we're together, my past seems worth it. Because if I had done one thing differently, I might never have met you. (Source)
23. I didn't fall in love with you because I was lonely or lost, I fell in love with you because after getting to know you, I realized that I wanted to make you a permanent part of my world. (Source)
24. "If you grow weak, I'll be there to fight your battles for you. I'll help you with your responsibilities and make your problems my own to spread the weight a bit more evenly." (Source)
25. Giving my heart to you is the one thing that I have done right in my life. I have found all that I want but never expected to see them in you and this day has allowed me to do the right thing for the rest of my life.
26. Let's make this decision together, to tolerate each other for every hour forth to the end of our lives. Let's request for the next hour to keep up with the hours that we have spent together. These little hours would guide us through the journey that we have shared.
27. Anything you wish for, I will be there to make it come true for you. For everything that your beautiful heart has written out to achieve, I must support you every step of the way. I solemnly promise you these and more. (Source)
The Most Beautiful Wedding Vows I Have Ever Heard
28. "You were my reason back then, my reason now, my reason every day. You strengthen my weaknesses, bring focus to my dreams. Here and now I pledge my life to yours, that your dreams become my dreams. No matter where life leads me, I know that as long as you are there, that is where I am meant to be." (Source)
29. Today, I take my place as your husband, to love and to cherish. May our days be long like the earth, and may they be full of desire, love, understanding and respect forever and ever. Today is the beginning of the rest of our lives together. I choose to spend today, and all of my tomorrows till the end of the earth, with you.
30. [Wife's name], I love you. You have brought such joy to my life. Thank you for loving me as I am and taking me into your heart. I promise to walk by your side forever and to love, help and encourage you in all that you do. I will take the time to talk to you to listen to you and to care for you. Through all the changes of our lives, I will be there for you always as a strength in need, a comfort in sorrow, a counsellor in difficulty, and a companion in joy. Everything I am and everything I have is yours now and forevermore. This is my promise to you.
31. I give you this ring. Wear it with love and joy. As this ring has no end, neither shall my love for you. I choose you to be my wife this day and forevermore. (Source)
32. "(Wife's name), you have been my best friend, mentor, playmate, confidant, and my greatest challenge. But most importantly, you are the love of my life and you make me happier than I could ever imagine and more loved than I ever thought possible. You have made me a better person, as our love for one another is reflected in the way I live my life. So I am truly blessed to be a part of your life, which as of today becomes our life together." (Source)
33. "From this moment, I take you as my best friend for life. I pledge to honour, encourage, and support you through our walk together. When our way becomes difficult, I promise to stand by you and uplift you, so that through our union we can accomplish more than we could alone. I promise to work at our love and always make you a priority in my life. With every beat of my heart, I will love you." (Source)
34. "Let's build a home of laughter, love and support. Let us create a warm and welcoming space for the good times and the bad. Let us be a home for each other, forever and ever." (Source)
35. We did not choose love, but love chose us. It crept into our hearts slowly, beginning on the day we met, warming us to each other. And as we spent time together, love showed us the joy of knowing each other. Love brought us to this moment, and love will remain in our hearts always as we step into whatever the future holds for us. Today, I choose you to be my wife forever. (Source)
36. "I promise to love and care for you and I will try in every way to be worthy of your love. I will always be honest with you, kind, patient and forgiving. But most of all, I promise to be a true and loyal friend to you. I love you." (Source)
37. "Love has given us wings, and our journey begins today. Wherever the wind may carry me, I will stay by your side as your husband/wife. Take this ring as a sign of my love and commitment to you." (Source)
38. "I wish I could stand up here and promise you the world, but the world isn't mine to give. What I do promise is my world and all it entails. My love, support, passion, compassion, and enthusiasm.
39. I wish I could promise smooth sailing, but the winds aren't mine to control. What I do promise is a ship built to carry you safely, and sails to weather any storm.
40. I wish I could promise you forever, but someone infinitely great than I already has. What I do promise is every second of this time sliver of eternity I've been blessed with.
41. I wish I could promise you riches, but every vault has its end. What I do promise you is a life of abundance—And abundance of love and support, of strength and vulnerability, of sharing and drive, of passion, and adventure.
Wedding Vows For Her That Make You Cry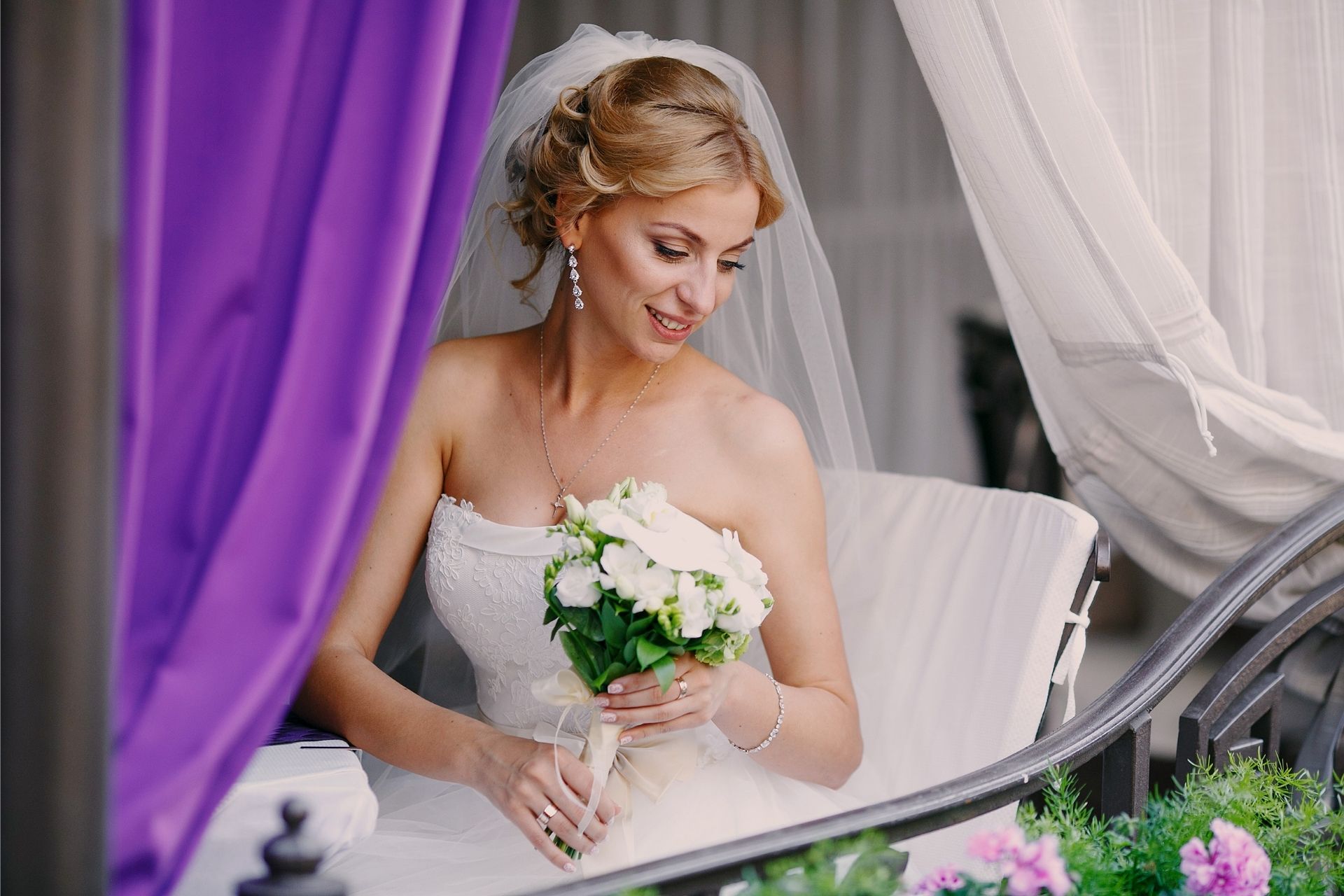 42. You should know, everywhere I go, you're always on my mind, in my heart, in my soul. You're my downfall, you're my muse, my worst distraction, my rhythm, and blues.
43. "In your eyes, I have found my home. In your heart, I have found my love. In your soul, I have found my mate. With you, I am whole, full, alive. You make me laugh. You let me cry. You are my breath, my every heartbeat.
44. "You are mine. My puzzle piece. Even after just meeting you, I felt like I'd known you my whole life, and now I get to know you forever, as your husband and best friend."
45. To be your kin and your partner in all of life's adventures is all I could hope for in the world. I will try all my best to make you happy in all you are doing. I have become your bone, your love and everything I do, will firstly be a consultation from you.
46. Falling in love is like choosing a home in the heart of a stranger that you don't know yet. I call your heart home because it is what I have always wanted and I would choose this repeatedly without a doubt. I have shut the door behind me to remain trapped in your heart forever.
More wedding vows for her
Wedding vows that will make you laugh and cry;
47. You are my heart, my light, my love, and my soulmate. You make all the wrong things right, and you always manage to put a smile on my face. Whenever I am with you, I get this feeling that words cannot describe. It is something that I would hate to lose and that's why I pledge my heart and soul to you. I pledge to stand by you always, no matter the consequences. And to let you know when you're wrong. I pledge to uplift and honour you, even after you make me mad by leaving the toilet seat up. I pledge to be open and honest with you, even when it might be hard to hear. And I pledge to love you always, even when we're old and grey and today is a distant memory. (Source)
48. "While climbing the attractive Mount Everest of your mind, I attempted to hike a little higher to take a peek at your soul. I lost my footing on that trail… and there is where I fell in love. (Source)
49. I promise you my deepest love and my fullest devotion. My tenders care through the pressures of the present and the uncertainties of the future. I promise to be faithful to you. I promise to love you, to commit to you and to support you. I pledge to respect your unique talents and abilities to lend you strength for all your dreams. You have shown me what love feels like and for that I thank you. You are everything I need. At this moment I know all of my prayers have been answered and that all of my dreams have come true. I praise God for you for all your love and constant friendship. I know that our love is heaven sent and I promise to be here forever and always from this day forward you shall not walk alone. My heart will be your shelter and my arms shall be your home. As I have given you my hand to hold I have given you my life to keep.
Pin this for later!