Sensual experiences are common in relationships and sometimes become unavoidable in romantic relationships. As members of the opposite gender interact and relationships are formed, sensual activities begin.
In most cases, it could begin out of fondness, lust or even genuine feelings but this may not be easy to decipher in the beginning of relationships but as time goes on, signs will show.
I advise people most times to enjoy every bit of their relationship and not bother in the very beginning about where it's leading.
We pressure ourselves too much into love relationships when all we should be enjoying should be platonic relationships but because we are under pressure to date, we venture into relationships that leave us heartbroken.
Signs a man loves you in bed could be overwhelming trying to figure out if a man really loves you in bed is no easy thing to do but thankfully there are a few cues that can give us an idea.
Men are wonderful and despite the fact that some have proven not to be sincere (it goes both ways too for the ladies) I'd say men mean what they say and when you notice a man putting down his feet on not being in love with you, don't try to bend it or make an appeal because he meant every word he said.
The "bed" is obviously one of the most confusing conclusions of love as men loves to make out and you may find it difficult to differentiate if he loves you or the lovemaking.
I know how it feels to lie in bed after the act and begin to replay events in your mind to see if there are signs he loves you, It could really be confusing.
I can't tell how far gone you are in your relationship but trust me when I say the bedroom can unravel some mysteries to us concerning your love life.
While you are thinking within or without and trying to sort this out, let's look at a few cues together. We will begin with signs he's turned on by you and how to tell if he loves you in bed.
Signs A Guy Is Really Turned On By You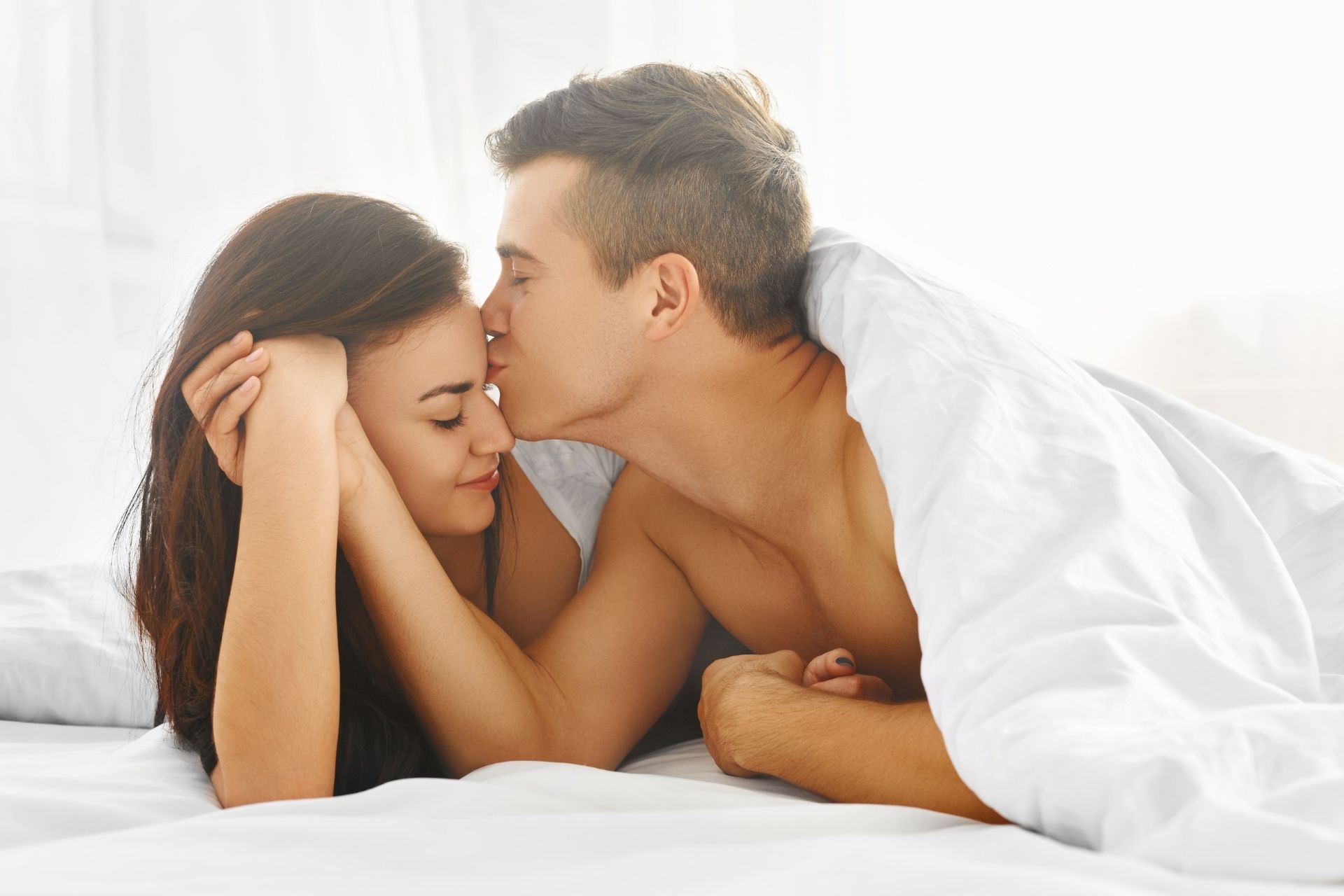 The regular sign every lady is acquainted with is the huge bulge below the belt, but there are a whole lot more before that. They are subtle though but they are huge signs he's turned on by you.
First, his eyes. Do you catch him stealing glances at you? Does he blush or laugh unnecessarily? It means you caught his attention.
Secondly, during conversations, he chips it in that you are his kind of lady.
Next is, he tries all he can to see and be around you even for the silliest reasons.
He talks about you a lot and links discussions with you even if it has nothing to do with you.
He stammers sometimes when he's with you, most times he's at a loss for words and doesn't know how to express himself.
Signs He Wants To Make Love To You
Every woman or permit me to say most women by instinct know when a man is after her and for what reasons he is after her. There are a few cues you can watch out for to know if a man wants to make love to you and signs he loves you when making love.
Have you noticed he compliments you a lot lately? Has he ever told you how romantic and hot you look?
He may not be bold enough to tell you but will say some things as a joke like asking if you are in bed and if he can come join you.
Another sign he wants to make love to you is, inviting you for dates at night and sometimes you will be home alone. He may go further by giving you a few touches.
Some other signs may include asking you to come shopping and getting you a lingerie, who are you going to wear it for?
He may also play romantic movies when you are together and begin to ask you intimate-related questions like when was the last time you make out and with whom?
He may lament also that he's missed lovemaking and wish he could have one soon.
9 Signs He Loves You When Making Love
Now let's dive in, looking at things he will do during lovemaking if he loves you, signs he loves you when making love, and signs he loves you in bed.
1. He Holds Your Gaze
Does your man look you in the eyes during lovemaking? If yes, then there's a possibility of some strong connection coming up between you two.
Only a few men will hold the gaze with a one night stand. Don't rejoice too quickly but keep in mind that something good is cooking. This is how to know if he enjoyed it.
2. He Steals Glances At You
This is one sign he may be considering something deeper with you. His eyes may only be granting expression to your thought.
Not every man may be bold enough to hold a gaze with you or look you in the eye. Some may be shy while others may not want to come across as being weak. It doesn't change the fact that he may be in love with you.
3. He Gets Emotional
This is way different from the emotion that got you into the act of lovemaking. It is more intense. Do you feel it in the way he holds you, talk to you or even cuddles you? He may even cry sometimes.
Does it feel more than just lovemaking to something more intimate? When you experience a rush of emotions from your man, it could be one of the signs he loves you in bed.
Don't feel bad if your man doesn't cry, not all men do but watch out for those strong moments of emotions and how he relates with you sensually.
4. He Compliments Your Body
I used to have a boyfriend who used to say good things about my body a lot. I used to be ashamed of my body back then but I would watch how he would caress me and how much he loves my skin, my tummy and thighs even though I never really appreciated my body back then.
After lovemaking, he would carry me to the bathroom and sometimes help me shave. I could feel how much he loved me by the way he handled my body. This is one of the signs he loves you in bed.
5. He's Interested In What You Like
This is one of the huge signs he loves you in bed. A man who doesn't care won't be bothered about what gives you pleasure and wants to know how to satisfy you. He will instead be interested in having his needs met not minding if you are satisfied or not.
When a guy is in love with you, he will want to know how to treat you right and possibly want you to reach climax before him.
This isn't about his ego or trying to feel like a superman who can pleasure a woman but it's about making you happy and satisfied.
6. He Won't Pressure You Into Doing What You Are Not Comfortable Doing
This is another huge sign he loves you in bed. Any man in the mood would want to get satisfied at all cost but when a man is in love with you, even though he desires satisfaction he will not want to pressure you into doing what you will not like.
He will communicate with you to know what's acceptable and what is not. He will be patient with you and be willing to wait for you.
He will not want to hurt you also. He won't just put you in a corner but will be intentional about getting a good place for you to meet and greet (smiles).
7. He Will Accept Responsibility
Every wise man will know that where lovemaking is involved especially without protection, a child could be underway. One of the signs a man loves you is that he will take responsibility.
He won't avoid you or treat you harshly, He will be interested in whatever your position is concerning the child. This is one huge sign he loves you in bed.
8. He Will Kiss You Greatly
Yes, you read correctly. If it's just a one night stand, he won't go all the way. This most times is the springboard for other sensual experiences and how a man feels about you is reflected in how he kisses you.
These kisses may not always lead to making out but if he spends a great time kissing you, then I'd say congratulations to you, your man may be in love with you. This is how to tell he loves you by his kiss and sign he loves you in bed.
9. He Will Be Committed To You
He will care greatly about you. For him, it won't be all about lovemaking, he will begin to initiate outings, dates and possibly travels together.
He will begin to pay some bills or do something about your looks by taking you shopping or even giving you gifts. A man who is after you for your body may still do the same, but you will sense the difference.
Lovemaking may still occur but he will not be too keen about it every time you meet, he will begin to want to know more of you and engage you in other things like heartfelt discussions.
You get involved in other things like cooking, cleaning or even reading to each other or playing games. This is one of the signs he loves you in bed.
Final Notes On Signs He Loves You In Bed
The love game is unique to each couple and it has no hard and fast rule as in love there's no holding back. Love sometimes is painful as we love people who are not worth it and eventually get our fingers burnt but it's still a beautiful experience if you are loved genuinely.
A loving partner will want to strengthen bonds with you, pay attention to you, nurture you, allow you to do your thing and continuously support you.
While you are walking with your head up in the sky because you are loved or in love, do not forget that trying times will come and you may not feel like you used to feel. Don't despair, keep enjoying the moment, support each other wholeheartedly.
Learn each other's love language and choose to give more than you are expecting to receive. It may not be easy but little input here and there will make it worth it.
One last thing, your love story may not lead to happily ever after, but enjoy it while it lasts as we keep growing and as time goes on we may want different things and it doesn't necessarily mean that we are bad but we have become more aware.
Endeavour to settle differences with your man on the love you share. When it happens that you tend to disagree more than you agree, then you may need to reconsider if you still want this relationship and if it is best for you.
Some differences are reconcilable while some may not be managed but true love will know when to let go. Don't hang on to a relationship you know has long ended, be brave enough to accept it and move on. Settle early enough some vital issues so you will know where you are heading.
Someone who truly loves you will let you go once it becomes obvious that your relationship isn't working. That your dating relationship ends don't mean you cannot be great friends later on in life. Regardless of what happens, don't forget to enjoy your life.
Pin this for later!