How to make a man cry in bed sounds so hot, I know but we will be turning the table over by beginning with you Lady Eve (permit me to call any lady reading this by that name). Our men seem to be the center of attraction that we forget ourselves which in turn messes up our plans.
Let me begin by asking how do you see yourself? Are you beautiful? Are you desirable? If your answer to any of the above questions is yes, then it means we are starting off on a good note.
Strange as I may sound, I believe until you have a healthy view of yourself, pleasing a man may be difficult for you as you may begin to think wrong thoughts. You may begin to feel used or even think you are not good enough for any man. This will erode your self-esteem and pride as a lady.
So before we begin with our men, I'd like you to know that you are precious, unique and you are one being who a man cannot do without because you complete him. I hope you got that?
How To Make A Man Cry In Bed
Now we will be exploring how to make a man cry in bed, how to make your man cry in bed, places to touch a man to drive him crazy, and how to please him in bed. Let's look at a couple of vibes you can bring to the bedroom to make your man sensually satisfied too.
1. Let Your Man Know You Are Happy Being With Him
Remember we began by speaking to ourselves as ladies. When you are happy, it rubs off automatically not just on your relationship but on your man also.
Every man wants to be sure his lady is happy with him and this doesn't stop in the outside world but also applies in the bedroom.
Do you want to know how to please him in bed? Please let your man know you are happy being with him and sharing your body with him, it has a turn-on effect on him knowing that he is not only wanted but needed.
It may not always be rosy, but make it a point of duty to make your bed a place for decluttering where you throw out all your worries of the day and just enjoy each other's company, let your man feel like being with him takes all your worries away.
2. Don't Be Silent
Silence in the bedroom could mean a lot of things which includes, "I'm not interested", "please finish up", "I don't enjoy what you're doing", "you are disturbing me", that's just a few thought that could be racing through your man's mind when you are silent in bed.
Your man needs to know he is hitting the right spots, he wants to be reassured of your love, he wants to know that he's your ride or die and trust me, there's no better place to be up, close and personal than in the bedroom.
Even if your man isn't doing it rightly, tell him with love or show him what to do.
3. Get Naughty Sometimes
Life doesn't have to be serious all the time, try to tilt to the fun side of life sometimes. Lovemaking is easier when you are with a partner who isn't ashamed of being real and can get naughty and playful sometimes.
You can include role play in your lovemaking sessions, calendar your lovemaking times and talk about your experiences afterwards, I mean there is nothing to be ashamed about.
You could play naughty nurse with a sick patient or even play a str#pper in the club just for the fun of it. Dress to suit whatever role you are playing and end it with a nice time together.
Endeavour to talk it out with your partner in case you have a co-derivative partner who isn't adventurous, as long as you two are cool with it, then you can try it out.
Want to know how to make a man cry in bed, and how to spoil your boyfriend in bed? Get naughty!
4. Give Your Man What He Wants
I don't want to come across as being mean here but I believe the key to the success of every relationship is making sacrifices and this extends even to the bedroom. Do you want to know how to make a man cry in bed? keep reading.
Every couple should dialogue about what they would love their partners to do to them and how they would love to be handled in bed. You could try to please your man first by acknowledging his needs and trying to meet them.
You could ask him also and take cues from how he reacts to your touch. Listen to him and it will make him open up to you and not be afraid to share his fantasies with you.
Do you know where your man loves to be touched the most? Do you know how to spoil your man in bed? If you don't know this, please ask questions. Talk with your man about it.
5. Look Inviting
Remember to dress for the occasion. A well-groomed lady will get a man's attention any time of the day. How do you dress for occasions? You don't appear before your man shabbily. Take a thorough bath, trim or shave your hairy regions, use a perfume or body spray and dress romantically.
Being prepared will even give you a feeling of being hot before you even turn up for the event of the day, it begins in the heart. This is how to dress for your husband in bed and how to be irresistible in bed.
6. Set The Atmosphere
This is more like setting the stage for the show. Clean up the bedroom, change the sheets, let soft music play in the background, use some air diffusers and invest in a good air freshener. Just set the tone for a swell night.
Keep your man itching to have you in those sheets. Be affectionate towards him, offer some light massages or just let him lay his head on your breast while he inhales your feminine scent.
You could have some candles lit across the room while you enjoy a romantic evening together.
7. Take The Lead Sometimes
Want to hear your man mo#n for joy? Doing this is one of the ways on how to make a man cry in bed. This begins with being a confident woman. It means you are taking charge of your place of primary assignment as a wife and you know your onions.
Men love confident women who can take the lead and use their initiative sometimes. Ladies, you are sensually attractive, please bring this vibe to the bedroom.
Show off your spicy side and instead of having them on you all night long, why not turn the table around by taking the lead? You could try the c#wgirl or reverse c#wgirl positions and either grind or ride your man to ecstasy.
Remember it begins with how you see yourself. Don't stick with what you have always done, try something new, be adventurous, be creative and try several things until you discover what feels great and works for you.
Don't wait for your man to recite the call to action, just go for it, bring in new styles and positions and he will love them and love you for taking the initiative to try out something new.
Remember variety is the spice of life and men love variety, which means you can try out new things.
8. Kiss Your Man Like Your Life Depends On It
This is one huge turn-on for some men. I've had some male friends tell me that a lady that could kiss them very well could have them for life, I know they were joking but come to think of it, this has a way of binding you two together and making you desire each other more. This is one of the ways on how to make a man cry in bed.
9. Mo#n For Joy
This excites your man just in case you don't know. It gives a pleasurable sound to his ears and makes him feel like a man, my girlfriends call mo#ning a lady's ringtone for her man. You do not have to shout but let the sound come out of you, it will make your man happy and make him know he's doing the right thing.
10. Shower Him With Praises
When next your man is hitting you hard, remember to let out some praises. Let him know your body belongs to him, praise him for being able to pleasure you. Let him know how well he's being a good man, husband and father to the kids. Think up something to appreciate him for and let it out.
Talk about his body, if he's gots six-packs, great and if not, tell him you love his body, his strong arms he uses to cuddle you, tell him it's one of the safest places for you, tell him his joystick is your perfect size as you do not need to work it too hard, just lavish your man with some sweet compliments.
11. Go Down On Him
This is how to make a man cry in bed but, shockingly, this is an act ladies are ashamed to talk about.
Learn the act of giving your man a bl#w job or even a hand and you will thank me later for it. This will add some spice to your bedroom as you won't keep doing the norm but trying out new things.
Just make sure you avoid using your teeth and be careful so your nails don't hurt him too. Be confident and do it like a pro until you get it right.
12. Try Not To Be Predictable
Do you only make love in the bedroom? Have you heard of the word spontaneous? Lovemaking doesn't have to be timed and turned into a stereotype event that takes place only in the bedroom.
Be spontaneous sometimes as lovemaking may not always be planned. Let one thing lead to another, let it happen in the kitchen, in the basement or even in the shower.
13. Look Him In The Eyes
Have you tried holding your man's gaze for a while in bed? Or are you shy? Locking eyes with your man tells of your connection, it's a turn-on for him and lets him know you love what he's doing. You could also look at your man romantically to let him know you need him.
14. Try A Quick#e Sometimes
It doesn't have to follow the order of some touches here and there. Have quick moves sometimes and let him in.
15. Rub Minds With Him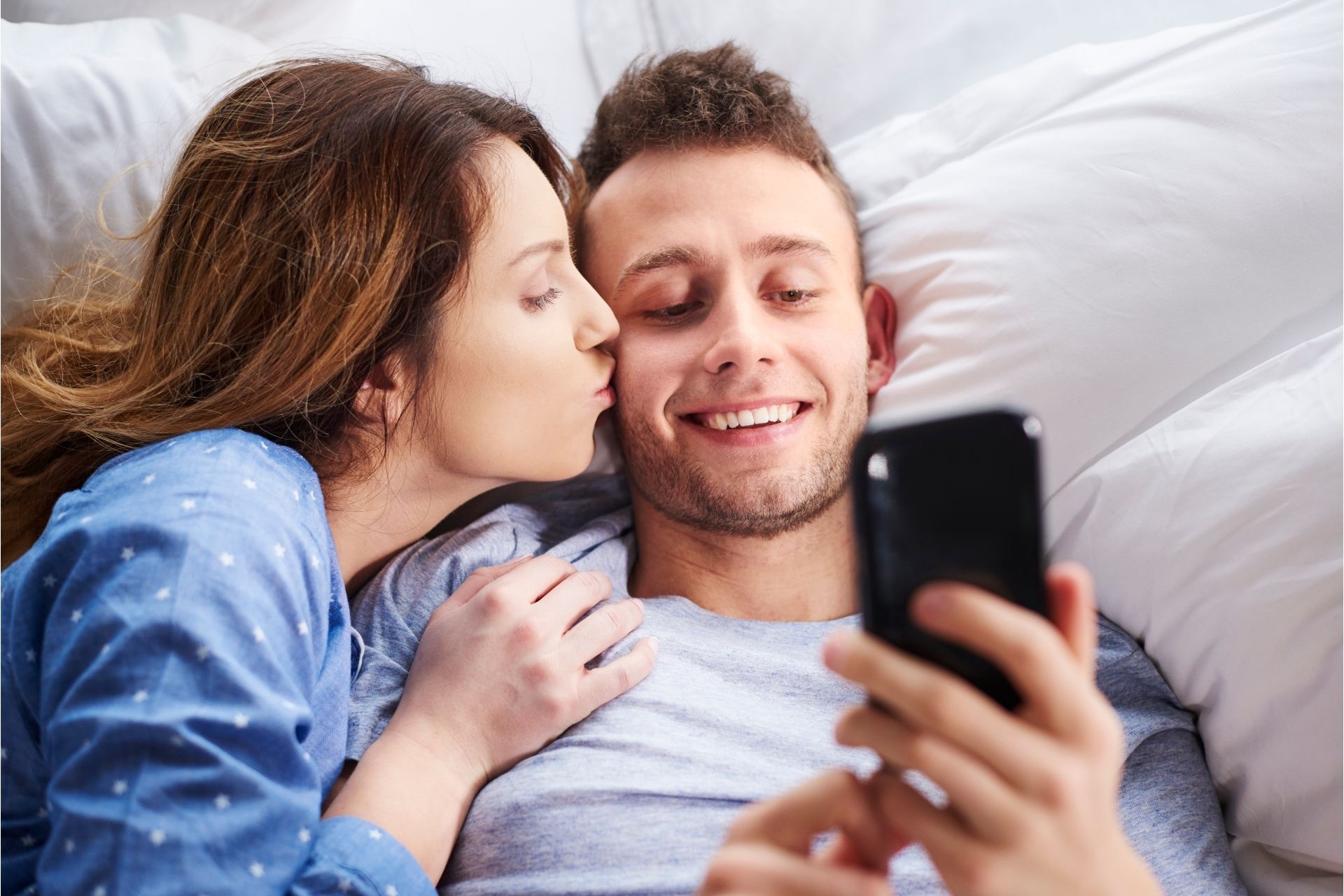 Do not fail to communicate with your man sometimes after your sessions. Find out what he enjoyed the most, what he wishes you did better and what he would like you to do next time.
16. Drop Surprise Messages
One way to prepare your man's mind for lovemaking is at the beginning of the day or during the day, not just necessarily while in bed. You can send some flirty messages to him telling him what you would like to do to his body.
Sending your man some romantic messages is one of the ways on how to make your man cry in bed, and how to spoil your man in bed.
17. Leave The Lights On
This depends on your preference, but sometimes you could try coloured lights to have a different view of your partner's body.
Most men love to feel, touch and handle their partner's bodies and doing it with the lights on sends some strong message to the man's body system. It may not be all the time but try leaving the lights on so you can sed#ce your man a little with your beautiful body.
18. Caress Him
Run your hands through his hair, chest and trace the line on his spine, play with his joystick. Just play with his body and watch him mo#n.
Want to know the places to touch a man to drive him crazy? Caress your man.
19.  Try some s#x toys and you will discover how to make a man cry in bed.
20.  Indulge in the use of some foods in bed like ice cream or honey to pleasure your man.
21.  Talk dirty if you can.
Final Notes On How To Make A Man Cry In Bed
It's been a long read for you I believe. Any more tips you will love to share on how to make a man cry in bed, how to spoil your boyfriend in bed or places to touch a man to drive him crazy?
Of course, there are so many more. Don't be limited, explore and come up with what works for you and I'm sure he will be hooked on you. I'd like to see what your list looks like in the comment section.
Pin this for later!